Delhi Daredevils skipper Mahela Jayawardene blamed the six-wicket defeat against Kolkata Knight Riders in their IPL opener on the loss of too many wickets in the middle overs, saying the team lost momentum because of the collapse.
Also Read
-IPL PHOTOS: KKR vs Delhi Daredevils, Eden Gardens
-Relieved to make a winning start in IPL, says Gambhir
-IPL: Are Kolkata supporters more loyal than Delhi's?
-Narine spins KKR to easy victory in IPL opener
"We just had to regroup after the first ball dismissal. But after (David) Warner got out, we did not get the momentum. Every time we pushed, we lost wickets," Jayawardene said.
"Things would have been different if we had wickets in hand. The wicket looked a bit slow. The ball was not coming on well. We thought 140-150 would have been a good total," he lamented.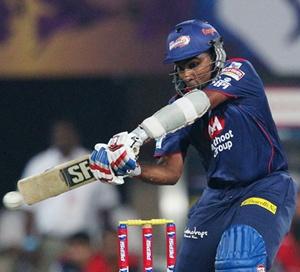 "Those are mistakes. We need to analyse what went wrong and look forward to the next game."
Man-of-the-match Sunil Narine, with figures of 4-0-13-4, foxed the batsmen with his 'mystery' spin and Jayawardene said some youngsters playing the bowler for the first time did not know how to handle him.
"We have quite a few youngsters and some of them have not played Sunil. He's a class bowler and was handful for some of our boys.
"Most of our boys had not played Sunil. A couple of them made their debut for Delhi. It was a bit of tough for them. But once they play him more often, they would get used to him," he said.
The Sri Lankan said they were investing in youngsters as the side was without some big names like Kevin Pietersen and Jesse Ryder who have been ruled out for the entire season.
"We always back our youngsters. It's an investment...now they played Sunil and the next time they would probably tackle him in a different way, having learnt from the experience. So that's an investment we're hoping would come good for the franchise."
Coming from an injury lay off, Jayawardene anchored the Daredevils sinking ship with a 52-ball 66 but he was unable to break free with wickets falling at the other end.
"The situation dictated the way I batted. That's the way it is... Everyday you just can't play the same way," he said.
"If you stay a little longer, you know how the conditions are. You have to keep adapting. You should have a lot of faith in your ability."
Jayawardene further said he was not surprised by KKR's decision to not bat first.
"The wicket looks much better than last year. Probably they also thought the same way. But it was a bit slow. I wasn't too surprised. They have a long batting line-up. It's just the first game of the season and everyone want to have a feel of the things."
About the jampacked turnout, Jayawardene said: "The home conditions are all about the crowd. It really helps if a big crowd is backing you."
Photograph: BCCI