Kolkata Knight Riders assistant coach Vijay Dahiya said the tournament has become more intense and interesting now with very little separating the teams in the IPL standings.
"If you look at this year's IPL, it looks like it is starting from now. Eight games have gone and every team is neck and neck. It all comes down to who travels well," Dahiya said.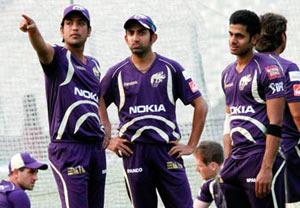 "If you look at the points table right now, nobody is running away with the points. It's good to be in the first two right now, but it all comes down to what kind of cricket we play in the rest of the tournament," he said.
Asked about Laxmipathy Balaji's fitness, Dahiya said, "We are having a look at him. If he is not 100 percent fit, we would not take a chance. This is a long tournament and he has been fantastic so far. When he is absolutely ready, then we will go ahead with him."
He however indicated that Mohammad Sami Ahmed, who was picked for India A's tour to West Indies, might be an option in place of Balaji.
"I think we have a lot of options -- Mohammed Shami who has just been picked for India A. It is a proud moment not only for KKR but for Bengal as well. He can be an option."
With four from Bengal -- Manoj Tiwary, Wriddhiman Saha, Ashok Dinda and Sami -- figuring in the India 'A' squad, Dahiya said it's a proud moment for the state.
"There was a time when Mumbai had about four players. It's really good for Bengal. We are really happy for Mohammad Sami."
On whether KKR have any specific plans for Chris Gayle and AB de Villiers, he said, "I think both of them are fantastic players. It depends on what we do on the park. It also depends on what kind of situation they are in -- either they are batting first or we have put the runs up on the board and according to that the plans keep changing."
Asked whether they were all geared up for the grudge match against Sourav Ganguly-led Pune Warriors India, Dahiya said, "It's about the next game that you play. We are not looking too far ahead; it's about the game tomorrow. That's still far away we still have a couple of matches in between them."
A virgin pitch out of the three strips is reportedly being used for the tomorrow's match and the Knight Riders assistant coach said they were ready for any surface.
"More or less you know the nature of the surface (here). It's a great thing that the curator has given us three options. Once he gives us the pitch, we will take a call from there."