Royal Challengers Bangalore might be a tad worried about Virat Kohli's poor form but Kings XI Punjab skipper Adam Gilchrist has described the India batsman as one of the most dangerous players in their rival camp.
"There are many RCB players who can take the game away from us. Virat is on the course to be one of the best players in the world. He will be very keen to do well in this IPL. Certainly he is a dangerous player," he said in Bangalore on Tuesday.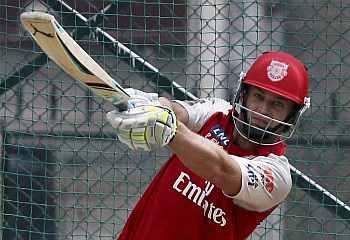 Gilchrist, who will not be available Wednesday's match, praised stand-in-captain David Hussey saying he was very pleased with the Australian.
"I'm very impressed with what he has done. He's led the team well and is very keen to perform. We work very closely in that regards and continue to talk through things even during a match," he said.
"He's had some good victories and a couple of near misses. Overall, he's done a great job, and I don't see anything negative in what he's done so far," he added.
Talking about the practice pitch at the M Chinnaswamy Stadium, Gilchrist said: "The practice wickets here are very similar to the track in the centre. It's terrific to have that quality of practice in what I think will be very much the match situation. That's credit to the ground staff here."  Gilchrist said he wouldn't play Paul Valthaty on Wednesday.
"I don't play Valthaty tomorrow. We know his skills. He had a wonderful tournament last year. Unfortunately he did not get a good start this year and also has a wrist injury. This is in his mindset. He is working hard to get back into the team," he said.