Rajasthan Royals skipper Rahul Dravid felt his young bowling attack's inexperience made the decisive difference in the low-scoring five-wicket loss to Kolkata Knight Riders in an IPL match in Kolkata.
Defending a small 132 on a slow Eden wicket, the Rajasthan Royals bowlers failed to make the desirable impact as their team succumbed to a second straight loss, going down by five wickets to Kolkata Knight Riders.
"Our Indian bowlers probably don't have the experience like KKR bowlers. They are good bowlers, working really hard but probably they don't have the experience. Sometimes in low-scoring games, a bit of experience helps you in being consistent," Dravid said.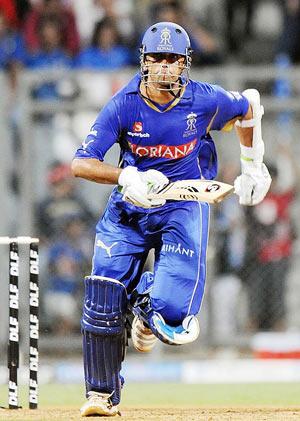 The 39-year-old, was however, impressed with the effort that his young unit is putting in.
"We are trying to make them learn as quickly as possible.
We have not been outclassed at all. Credit to youngsters who are fighting hard. We just hope to come over the line soon," he said.
Asked whether 131 for five was not a winning total on the difficult Eden track, Dravid said fielding also made the difference.
"It was a slow wicket. It spun right from the beginning. It was pretty obvious that the game would be a low-scoring one. We fought hard to defend but we could have fielded a bit better in the tight game. But you have got to give credit to them. They batted really well after losing wickets," Dravid said.
With the ICC World Twenty20 coming up, the IPL would be a yardstick for the selectors, felt Dravid.
The Royals skipper was all praise for opener Ajinkya Rahane.
"He started off very well in International cricket. He was left out when some of the senior players came in. It is a great opportunity to show the selectors that he can play in all forms of the game. He is doing that. He is working really hard. If he keeps performing like this, he has a bright future ahead of him," he said.
The 39-year-old Dravid, who quit all forms of international cricket after the disastrous Australia series, said he was enjoying working with the youngsters at the Rajasthan Royals.
"I still enjoy playing. I am enjoying working with a lot of young players. I have been quite relaxed. We have a young team. It's good fun with a lot of exciting players."
Asked whether it was his last IPL, Dravid said: "I don't know yet. I will see it in June."
Dravid said he had some fond memories of the Eden and he would love to come back again.