Australia captain Michael Clarke has been signed by Pune Warriors India for the forthcoming season of the Indian Premier League.
"We are thrilled to have Michael Clarke on board. The reigning Australian skipper is one of the world's best cricketers. His presence in the side, and cricketing proficiency, will boost the prospects of Pune Warriors India in the DLF IPL 2012," Sushanto Roy, Managing Director, Sahara Adventure Sports Ltd, said.
The fifth edition of IPL begins on April 4, when champions Chennai Super Kings take on Mumbai Indians in Chennai.
After resisting the IPL for four seasons to focus on national duty, Clarke finally accepted Pune's offer.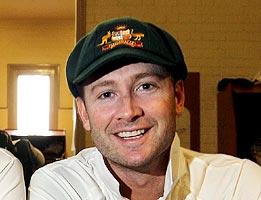 Former India captain Sourav Ganguly will lead the Pune franchise following the inability of Yuvraj Singh to take part in the tournament. The left-hander is undergoing treatment in the United States after being diagnosed with lung cancer.
"Clarke was exceptional in the recent Test series against India, as batsman and captain. He is a very popular cricketer in India, and followers of the sport are eagerly looking forward to his participation in the DLF IPL 2012," IPL chairman Rajeev Shukla commented.
The in-form Clarke, who is struggling with back problems, did not give his name for players' auction even this year but Pune approached him after getting the BCCI's nod for it.
Clarke retired from Twenty20 internationals last January. He left for Australia's tour of the West on Sunday after recovering from injury and may not be available for most of the IPL even if the deal works out because of national duty.
The IPL's fifth season starts on April 5, while the Test series in the Caribbean ends on April 27.