Australian batsman Shane Watson has said that Shane Warne could still dominate batsmen if he wants to, as he is still the best spinner around.
Leg spinner Warne (41) prepares for his last game of professional cricket against Mumbai Indians in the Indian Premier League.
"It has been hard for the guys coming in and trying to make their mark on international cricket with the Australian team. The way Warnie is bowling now, he would continue to dominate world cricket," the Australian vice-captain told The Age.
"It's been mind-blowing for me to see him, after not bowling for a year, be all over batsmen the way he is. It's pretty crazy how someone has got that much skill and hasn't lost that control over something that is so difficult to do.  
"If he ever came out of retirement, which he's not going to do, he would still dominate," Watson said.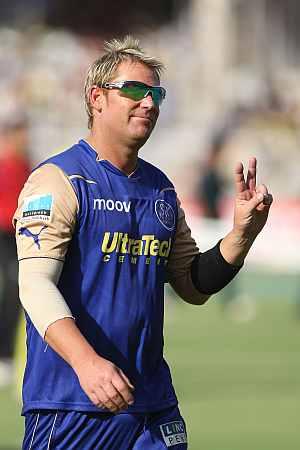 Others believe Warne expresses his bowling genius less often than he used to, but in the last act of his career, in four seasons as captain and coach of Rajasthan, he has been a powerful promotional tool for the Indian Premier League.
Warne's IPL experience has shaped his legend and his legacy in some surprising ways. He cuts a svelte figure, and is arguably fitter now than he was at any time during his 15-year international career.
"He's gone from eating baked beans, margarita pizzas and cheese sandwiches to broadening his horizons a little bit," Watson said.