Chennai Super Kings captain Mahendra Singh Dhoni feels that the hour long rain-interruption proved to be the decisive factor during their seven-wicket loss against the Kochi Tuskers Kerala in an IPL match in Kochi on Monday.
"The interruption didn't help us at all. We lost three overs which proved to be crucial in the end. We had marked those three overs to set ourselves up for a big score," a dejected Dhoni said at the post match presentation ceremony.
"It was the timing of the interruption that became crucial. Badri had just walked in and the big hitters were there in the dressing room. But can't take any credit away from the Kochi bowlers as they did a good job in restricting us. Also McCullum batted well and stayed nearly till the end," he added.
When asked about his team's fielding, he said, "Our fielding was good but we simply didn't put enough runs on the board."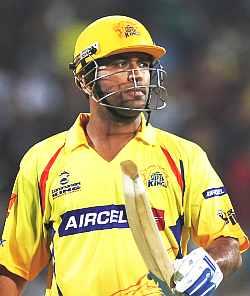 Dhoni's counterpart Mahela Jayawardene admitted that the rain-break proved to be blessing in disguise for the home team.
"You can't anticipate rain. In T20 cricket you need a bit of luck along with doing the little things right. It was a tactical gamble as to how we would bowl after the break. Also it was the partnership between Brendon and Parthiv that helped us win the game. We should now look to keep the momentum going our way."
For man-of-the-match McCullum, it's all about backing his instincts. "I try to remain true to my game. That works for me sometimes and at times it doesn't. Today Mahela started well and Parthiv played a fantastic innings. We have some quality players that's always a help."
Ravindra Jadeja who hit the winning runs hoped to continue his good form in the tournament.