Chennai Super Kings bowling coach Andy Bichel paid rich tributes to Mahendra Singh Dhoni terming him an "amazing man who never really shows that he is tired."
When asked whether a couple of weeks rest after IPL will help Dhoni, Bichel said, "Dhoni is an amazing man. He does not give you an impression that he is tired. We actually felt he might get tired after such a rigorous World Cup campaign but we were amazed," the CSK bowling coach said on the eve of their match against Delhi Daredevils at the Chepauk.
Bichel was all praise for Dhoni's match temperament.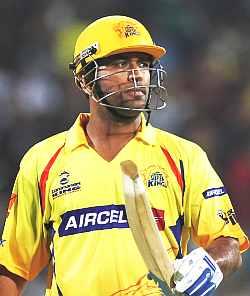 "He enjoys playing the game. He probably does not practice as much but he has a fantastic match temperament which is important. He is doing quite nicely. Taking rest is his decision." Bichel admitted that their Delhi Daredevils players will have to put up an inspirational performance in the absence of their dashing skipper Virender Sehwag who has been ruled out of the tournament due to shoulder surgery.
"Obviously when you lose a leader, it does affect the side. But that also gives others in the side a chance to step up. They have some good players and have done reasonably well," he said. The Chepauk has been like a fortress for the CSK where they have remained unbeaten so far and Bichel is hopeful that it will remain that way only.
"I think that we understand the conditions here better and that is something to do with our good show at home. And, having a balanced team to execute plans in such conditions also has something to do with it." Bichel did indicate that there will be some changes compared to the last match as the conditions at Chepauk are different from that at the Sawai Man Singh Stadium where the wicket offered a lot of pace and bounce.
The bowling coach seemed pretty satisfied in the manner Doug Bollinger and Albie Morkel has complemented each other while sharing the new ball.
"Bollinger and Morkel are different kind of bowlers. Also we have some quality spinners in our line-up. Once you have so much variation in the line-up it always helps." Sri Lankan offie Suraj Randiv is set to leave for England on May 13 and Bichel feels that the team will miss a quality spinner like him.
"It is a big loss for us as he will be leaving for England on May 13th. But he is available for tomorrow's match against Delhi Daredevils."
Bichel admitted that he had indeed applied for the Australian team's bowling coach's job only to decline it later.
"I did apply for it but declined it later. But I enjoyed the paces in going through the interviews." The former speedster didn't want to get engaged into the pitch controversy regarding the match between CSK and Rajasthan Royals which was held at the Sawai Man Singh Stadium on Monday.
"You have got a wonderful product here with you and you have to be careful with what you do with the wickets. There were times that you had flat wickets and small boundaries, which actually served the game to the public.  I think we got to stay pretty close to the guidelines."