It has been a long day for 
Peter Ian Philpott
at
the Cricket Club of India. In Mumbai to train a bunch of young wrist spinners, Philpott has completed his 50th year as a cricket coach.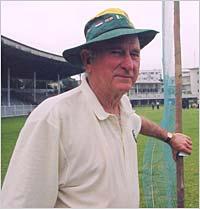 The 69-year-old history teacher is so involved with his coaching stint that we eventually sit down for an interview fixed for the morning at half past seven in the evening.  
He is not as tech-savvy as South African coach Bob Woolmer. Neither does he write memos to players referring to Sun Tzu's The Art of War like Australian coach John Buchanan does. He is not as high profile a coach as Bobby Simpson or Javed Miandad.     
And yet the former Aussie leg-spinner is easily one of the most sought after coaches in world cricket.
A former Australian coach, Sri Lankan coach, English county cricket coach his most recent pupil was Aussie leggie Stuart MacGill, with whom he shares a very close relationship.     
Philpott played in the same era as Richie Benaud and got his chance to play international cricket only when he was well past 30.   
"When I finally made it to the Test side within two years my headmaster asked me to come back and teach history. That in effect was my Test career."
All of eight Tests, 26 wickets and three years (1964 to 1966) later, Philpott was teaching history at the Sydney Church of England Grammar School.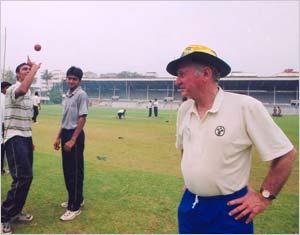 Sipping his chilled beer, Philpott says, "After topping the Sheffield Shield (Australia's premier domestic league) with bat and ball, it was disappointing and disheartening to wait till Richie Benaud retired."    

"The standard of bowling in world cricket is the worst I have seen in the last 50 years," he says.

"Name me some great bowlers playing today. How many great players are there in international cricket today? How many world-class spinners are there in the world today?"

"The West Indies don't have a quality spinner nor any quality pace bowlers. South Africa and England don't have any great bowlers. India, Pakistan and Sri Lanka can boast of spinners but no great bowlers. New Zealand has an efficient attack, but it not great. Barring Australian bowlers, you can see that the cupboard is bare."

For a man who played with cricketing giants Keith Miller, Ray Lindwall, Arthur Morris and against the likes of Conrad Hunte, Seymour Nurse, Rohan Kanhai and Gary Sobers, he sure knows what he is talking about.

Philpott blames the advent of limited overs cricket for the declining bowling and batting standards.

"Limited overs cricket has done harm. It pleases the public but it is a poor way for boys to learn cricket. We don't create wicket-taking bowlers anymore. Limited overs cricket teaches containment, not attacking bowling."

His other worry is that the game has developed remarkable hitters of mediocre bowling.

"Put them against good bowlers and they struggle. If you can't get them out you don't deserve to win. This 50 overs cushion needs to be removed. I can understand that Test cricket does not need draws but who watches junior cricket? Re-introduce the draw. A well-fought draw is better than a mediocre show between bat and ball. The game is suffering. The bat is clearly winning against the ball."

Philpott also lamented the dearth of wrist spinners on the circuit.

"Everyone is being trained to bowl like Shane Warne. This clone-type bowling is dangerous. Of the great leg-spinners over the past 50 years from Clarrie Grimmett, Bill O'Reilly to Shane Warne -- each

leggie is different from the other."

Philpott believes Warne has been detrimental for kids who follow his style blindly.

"With due respect to Warne, who I believe is the greatest leg-spinner in history, I think he has done damage to kids."

"Warne's walk up to the wicket has been imitated worldwide by kids. It has buggered his arm and will harm a lot of kids as well. Warne has a huge body mass that enables the explosion needed at the time of delivery. Little boys don't have that kind of strength to explode at the wicket without a run up."

"Secondly, Warne seldom bowls a bad delivery and that has made captains intolerant towards young leggies if they bowl the rank bad ball."

He warns that quality leggies are taking to medium pace bowling to continue their careers.

"Medium pace stuff will reduce scoring but it will not get people out. And that is precisely why the Australians are ahead of the others in the world today. They believe in dismissing opposition quickly, even if it means giving a few extra runs, and then giving themselves time to win."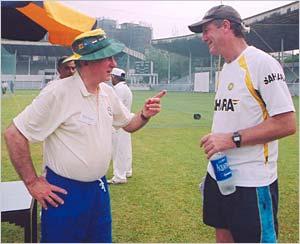 Philpott believes if any side in the world was equipped to beat Australia it is India.
India takes on Australia in a four-Test series in Australia in December. 
"If I were a punter, I'd put my money on India. With Sachin Tendulkar's ability to score against anybody and the other quality batsmen around him, India is the most likely team to beat Australia."
"For one team to stay at the top is not good for cricket. India defeating Australia will be the best thing for world cricket."
Philpott (seen with Indian coach John Wright) believes the key to success in Australia is not fast bowling but good swing bowling.
"In Zaheer Khan and Ashish Nehra, India has a good bowling attack. If they can pick three quicks and Harbhajan Singh, the attack will be tough for the Aussies."
"After all, the best leg-spinner in the world (before Warne) was an Indian -- Subhash Gupte. I played him in the Lancashire League and was amazed to see his beautiful leggies. He was easily ahead of everyone else. Indian batsmen are the best players of spin bowling."
But he believes leg-spinner Anil Kumble will not enjoy Australian conditions too much.
"Kumble will not turn the ball on the first three days and the Aussies will play him as a medium pacer. On the last days of the Test he will come into play but can India afford that? Unless he takes early wickets in the side games he won't play the Tests."
Photographs: Jewella C Miranda