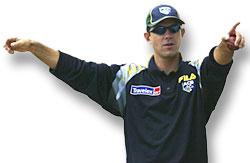 "...so are you watching on Videocon?" Ricky Ponting was busy rehearsing his lines as he had four retakes for the shot before breaking for lunch.
Ponting, Australia's captain in Limited Overs Internationals, was in Mumbai on a three-day visit to shoot commercials.
The man known as Punter landed in the city on September 9, a public holiday in Maharashtra for Anant Chaturdashi, the last day of the Ganesh festival.
With Ponting booked at a suburban hotel adjacent to Juhu beach, one of the main venues for the immersion of Ganesh idols, it became quite difficult to reach the hotel because of the huge processions. "We had to walk for quite some time due to the jam, there was no place for the vehicle to pass," Ponting told me over a chat. "I was quite shocked to see so many people on the roads. There were women watching the procession from the podium. It was quite interesting."
Ponting made his debut in 1994-95 and rose to captain the one-day side in just eight years. His nine years in international cricket have seen many upheavals. His place in the side briefly came in doubt after his involvement in two off-the-field incidents -- the first at a nightclub in Calcutta in 1998 and the other at a bar in Sydney in early 1999. He was also sidelined by a serious ankle injury in February 1999.
Ponting plays for Tasmania in Australia's domestic cricket and became a leader of the state side after just six games.
The 29 year-old is widely believed to possess a shrewd cricketing brain. He's also seen to have the dynamism and flair that marks out the sport's great captains.
Wearing the team shirt and pyjamas and fixing his make-up, he told me to start asking him questions. Later, after a good lunch and the shoot, it was my turn to catch him again. Excerpts from the interview:

 How difficult was it to take over the mantle of captain from Steve Waugh?

 Actually it's been quite easy because we have played so well that the guys have really made my job fairly easy. I had big shoes to fill, but the way we have been playing has made the transition quite easy.

 Australia is the only team to have two captains, one for Tests and the other for one-day games. How does it function?

 Eh! Frankly, it's not very ideal. But it is something we have been used to now since quite some time. Mark Taylor and Steve Waugh used to share the duties as well. We are used to it and most importantly players have responded quite well to both captains.

 Who, according to you, are the top Indian bowlers, if you were to rank them?

 Well, currently I would go for:
Zaheer Khan
Ashish Nehra
Harbhajan Singh
Anil Kumble
[But] we have been quite successful in the past against them. Harbhajan caused a few problems the last time in the Test series. But since then we have managed to combat him pretty well.
Nehra and Zaheer, they are improving all the time. They are both good left-arm bowlers. We have played enough against them to know what they can actually do.
Anil, he is the most senior spinner and has been around since some time. But last time we didn't play him in the Tests.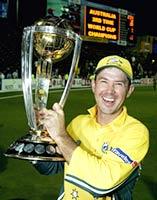 Captaining Australia in World Cup 2003, what went through you mind after putting 359 on the board in the final. Did you see the game as over, or did you still have a doubt?

 We were not scared of losing once we had 359 on the board. We were fairly confident that we would win the game. We knew we had to go out there and do the basics right. To bowl well. We had enough runs on the board. It was just playing well and sticking to the basics to win the game.

 After scoring a century in the final, what did you do in the one-hour break between both innings? What went through your mind?

 [Laughs] Well, just the same as I always do, had some lunch, sat down and had a few drinks. I was just getting ready to go back out on the field. We just talked about our game plan, about what we were going to do, and that is it.

 You have been an outspoken captain. But what was the reason for going out and speaking to the media about Brett Lee, that he should bowl fast but at the same time be economical? Why did you choose the media and not him personally to talk about it?

 Well, that comment was made just looking ahead to the World Cup. We knew Brett could be a huge weapon for us in the World Cup. [But] the way he was bowling, he was going for six runs per over, I think. We knew that if we had to win the World Cup, the defensive side of the game had to be better, which means bowlers will have to bowl tight and we will have to field better.
I am happy Brett responded well to that.

 But why did you choose the media and not talk to him personally about it?

 Well, there was no reason why I specifically said it in front of the media. It just happened at that moment. There was some talk on the World Cup ahead and it happened there. No specific thought process behind going out in the media.

 What are your thoughts on the upcoming tri-series with India and New Zealand in India?

 We are all preparing in our own little way. We are in a break, so all the guys are doing their individual programmes -- getting fit, getting strong, bat and bowl here and there.
But we have got two Test matches in Australia before coming to India. Later, we have a camp before that for the Indian series. So by the time we come here we should be fairly well prepared for the tri-series in the subcontinent.

 Do you have any special plans to combat Harbhajan Singh, who caused you some serious problems during the last Test series in India?

 Oh, you are right. Yeah, he did [cause me problems] in the Test matches. Definitely I will work it out, quite some time on hand for the series. But finally I will just have to wake up and play the game. I will try and stick to a chalked out game plan.

 Tell us about the 'Beneath the South Cross' song, which is sung by the captain of the team. How was it singing it for the first time?

 It's a song that we sing after we win a Test match. We sing it after every one-day series win. It's been passed down through the generations. It's the culture of the Australian team. It was a very special feeling singing it for the first time. There are only three or four guys who have done it before and I was one of them, so I feel pretty lucky.

 So, what are the changes from the Ricky Ponting of 1994-95?

 Ahh... well, not too many, just a bit smarter and more sensible.