New Zealand pacer Tim Southee believes his team would be right back in the game if their pacers can pick up few early Indian wickets on Day 3 of the second and final Test in Bangalore.
India on Saturday bounced back after tottering at 80 for four at one stage, courtesy a brilliant unbeaten 93 by Virat Kohli, who led the fightback and helped the hosts to reach 283 for five at close. 
"It is too early to say anything as the wicket still looks pretty good. If we pick up early wickets tomorrow, we can restrict India from causing further damage. Then I think we are right in the game," he told reporters at stumps.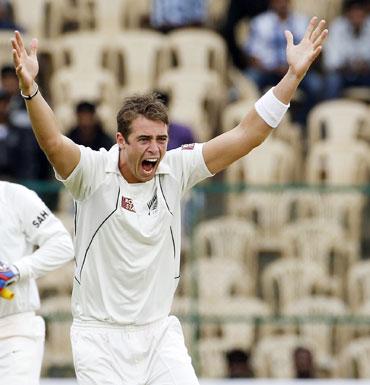 Southee further said that the pitch at Chinnaswamy Stadium here hasn't done anything funny as yet, but may be later on Day 4 or Day 5 it might start to do something. 
The 23-year-old pacer said New Zealand would have loved to post 400 runs on the board, but expressed satisfaction over getting 365 runs in their first innings. 
"It wasn't an evasive surface, so we could not get much purchase off it in later parts of the day's play," he said. 
Defending the New Zealand bowling attack for not getting more wickets in later part of the day, Southee said the bowlers did well in getting wickets in early part of the day when the ball was swinging, but could not do so after the red cherry went soft. 
However, Southee hoped Kiwi bowlers would pick few more wickets with the second new ball when the play resumes on Sunday.
Asked whether he felt the Indian batsmen played well to come out of the woods or the NZ bowlers lost the sting, Southee said the host batsmen were edgy and gave chances that went abegging early on.