Batting mainstay VVS Laxman believes a 250-plus score in the first innings at Kingsmead will prove competitive and give India enough cushion to bowl out South Africa in the second Test in Durban.
"Anything above 250 runs will be good competitive score on wicket like this if conditions remain the same," Laxman told reporters at the post-match press conference after the first day's play on Sunday.
"It would have been ideal if I and Rahul would have carried on that partnership; that would have put lot of pressure on the South African team. I think how we start of tomorrow will be important," he added.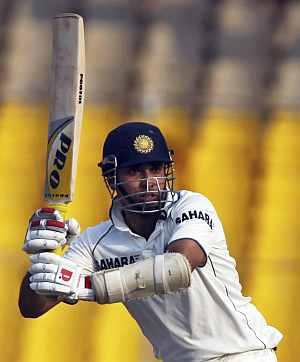 Laxman feels the Kingmead wicket is quicker and has more bounce compared to Centurion, but admitted that the batsmen should have converted their starts.
"As compared to centurion, the wicket here is much quicker, bounce is also more. Centurion wicket was much soft and slow. Especially on the second day at Centurion the sun came out blazing and the wicket became flat for batting.
"Same should not happen here," said Laxman, who top-scored with a 38 on the opening day of the second Test, which saw India struggle to 183 for 6.
"Still, I think one of us should have carried on and remained not out on say 70-odd runs. All of us got starts but we could not convert the same in to real big one that is bit disappointing," he said.
The classy right-handed batsman reposed faith on the lower order batsmen, led by Harbhajan Singh, saying he expects a fightback from them.
"We expect yet another fightback from our lower middle order. They are putting in lot of hard work in the nets and they take lot of pride in their contribution with bat," he said.
"Harbhajan's batting has improved a lot. He scored those back-to-back hundreds against New Zealand that put us in good position. Being patient on this wicket is very important," he added.
India lost the toss for the second time in as many Tests, but Laxman was not overly disappointed. He said as International cricketers one needs to be prepared for such a challenge.
"When you are playing at international level you should be prepared to take up whatever challenge comes your way. Toss is not predictable. It is not in your hand. It would have been great to bowl on this wicket," he said.
The 36-year-old also heaped praise on the pace bowling duo of Dale Steyn and Morne Morkel.
"Steyn and Morkel are among the best I have faced in my career. They are quality fast bowlers who are doing well for the South African team," he said.
Steyn scalped four for 36 in his 14 overs to haunt the Indians on a bouncy wicket.