After the slapgate incident during the first edition of the Indian Premier League in 2008, India pacer S Sreesanth broke down once again during the ongoing tour of South Africa, it was reported on Wednesday.
It is believed that the Kerala pacer was in tears after getting a blast from Mahendra Singh Dhoni, despite his brilliant showing with the ball in the third and final Test. Sreesanth took five for 119 on Tuesday, which helped India dismiss South Africa for 362 on Day 2, to give his team hopes of securing their first ever Test series win in that country.
- I have made mistakes and learnt from them: Sreesanth
According to sources, Sreesanth was reduced to tears in the team hotel in Durban after Dhoni gave him a dressing down. The Indian captain was angry after his opposite number Graeme Smith alleged that Sreesanth had made personal comments about his mother and Paul Harris' wife.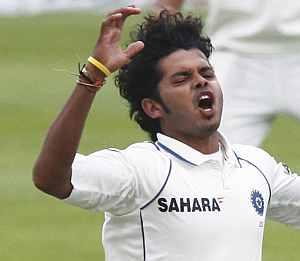 It is learnt that Dhoni assured the Proteas skipper at a function prior to the Cape Town Test that there wouldn't be a repeat 'performance' from Sreesanth.
Dhoni felt that the temperamental fast bowler was responsible for the team's slow over-rate. Sources within the team reveal that some team members also made fun of Sreesanth and treat him like a rank outsider by often humiliating him in the dressing room.
Prior to the final Test, Dhoni too admitted that Sreesanth 'is difficult to control'.
"I told him before this match (at Durban), if you take six-seven minutes to bowl an over, it will be difficult to pick you in the side. I asked him to finish his overs quickly. As a captain, you need to always have him under control. It is good for everyone, not only for him, for our team, for the opposition, umpires and spectators," Dhoni said.