India [ Images ] managed to retain their third rank among T20 teams, while Virat Kohli [ Images ] has held on to his sixth spot in the ICC [ Images ] rankings for Twenty20 [ Images ] batsmen issued Thursday.
India placed at third with 119 points in the ICC T20 Championship table, is headed by reigning T20 champions Sri Lanka [ Images ] followed by the West Indies [ Images ].
Sri Lanka are the clear leaders with 131 ratings points, nine ratings points ahead of second-placed ICC World Twenty20 2012 champion West Indies.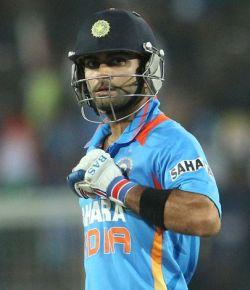 Meanwhile, even the Indian batsmen figuring in top-20 list have also managed to cling on to their respective positions. Star India batsman Kohli has retained 731 points, while Suresh Raina [ Images ] remains at ninth place with 719 points.
Other Indians in the list includes Yuvraj Singh [ Images ] (13) and opener Gautam Gambhir [ Images ] at the 17 position.
New Zealand [ Images ] wicketkeeper Brendon McCullum [ Images ] leads the T20 batting chart with 794 points, followed by destructive West Indian opener Chris Gayle [ Images ] (792), Sri Lanka's Mahela Jayawardene [ Images ] (768) and Australia's [ Images ] Shane Watson [ Images ] (767).
In the T20 bowlers category, off-spinner Ravichandran Ashwin, ranked 16, is the only Indian to have found out a place in the top-20 list.
Pakistan's Saeed Ajmal [ Images ] leads the bowlers' table with 756 points followed by Ajantha Mendis [ Images ] of Sri Lanka (731) and England's [ Images ] Graeme Swann [ Images ] (720).