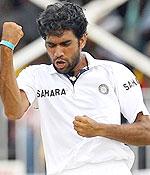 Munaf Patel and Sudeep Tyagi wreaked havoc with seven scalps between them as India Red won the NKP Salve Challenger Trophy, steamrolling Mahendra Singh Dhoni-led Blue team-mates by seven wickets in an extremely lop-sided final in Nagpur, on Sunday.
Having won the toss, India Red captain S Badrinath put the rivals in and unleashed his fiery pace attack which bundled out India Blue for a paltry 84 in 27.1 overs with Munaf (4/21), Tyagi (3/20) and Ishant Sharma (2/26) leading the rout.
And it took India Red just 20.3 overs to cruise to 85 for three, with Shikhar Dhawan (32) and Harshad Khadiwale (28 not out) helping them to the facile win.
Put into bat, India Blue could never recover from Tyagi's three-wicket burst early in the innings which set the tone of the match.
The first ball of the match saw Tyagi castling Naman Ojha and his third trapped Suresh Kumar as India Blue were without two top order batsmen even before they could open their account.
Dhoni surprisingly sent Harbhajan Singh (8) at number four, only to become Tyagi's third victim and India Blue had their back against the wall at 19 for three.
Dhoni (23) decided to counter-attack in company of Wasim Jaffer (11) and the duo had added 30 runs to raise the hope of a revival when the Team India captain fell to R Ashwin and another batting collapse ensued with Munaf coming up with a four-wicket burst.
The lanky pacer removed Jaffer and Yusuf Pathan (0) in the same over and returned to get rid of Abhishek Nayar (7) and S Sreesanth (2) in successive overs to reduce India Blue to 74 for eight.
Ishant then polished off the tail, claiming the last two wickets to drop curtains on the India Blue innings.
The scoreboard read a sorry tale with only three Indian Blue batsmen managing to get past double digit figures.
Chasing a meagre target, India Red got off to a sound start with Shikhar Dhawan (38) and Murali Vijay (12) adding 40 runs before losing two quick wickets without adding a single run.
Harbhajan trapped Vijay and then had the scoreless Sunny Sohal before removing Dhawan but it was just not enough to change the complexion of the match.
Scoreboard:
India Blue:
Naman Ojha b Tyagi 0
Wasim Jaffer lbw b Munaf 11
Suresh Kumar lbw b Tyagi 0
Harbhajan Singh b Tyagi 8
MS Dhoni c Sharma b Ashwin 23
Abhishek Nayar b Munaf 7
Yusuf Pathan c Tyagi b Munaf 0
Jalaj Saxena not out 19
S Sreesanth c Saha b Patel 2
Ashok Dinda c Badri b Ishant 1
Sidharth Trivedi b Ishant 1
Extras (LB-6, W-6) 12
Total (All out in 27.1 overs) 84
Fall of wickets: 1-0, 2-0, 3-19, 4-49, 5-53, 6-53, 7-70, 8-74, 9-77.
Bowling: Tyagi 6-0-20-3; Ishant 6.1-0-26-2; Ashwin 7-2-11-1; Munaf 8-3-21-4.
India Red:
Shikhar Dhawan b Harbhajan 38
Murali Vijay lbw b Harbhajan 12
Sunny Sohal c Ojha b Harbhajan 0
Harshan Khadiwale not out 28
S Badrinath not out 2
Extras (W-5) 5
Total (For 3 wickets in 20.3 overs)85
Fall of wickets: 1-40 2-40 3-73.
Bowling: Sreesanth 8-1-21-0; Dinda 3-0-22-0; Harbhajan 7-0-23-3; Pathan 1-0-11-0; Dhoni 1.3-0-8-0.