England wants to get the best out of India's misery at the moment. And beating India in the current series will not be enough. They have set a higher task for themselves to upstage Mahendra Singh Dhoni's men in their own backyard as well to reach the No. 1 spot in ODIs, says spinner Graeme Swann.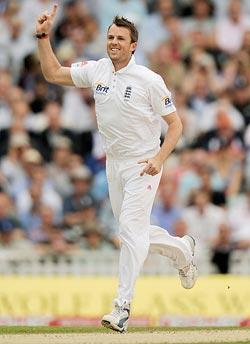 "Our official ranking is five and I don't think we can argue with that," the English off-spinner told Sky Sports News. "We have shown some improvement recently but we have to continue that if we want to be one of the best teams. We have to beat teams like India, not just in this series, but when we go away to play them as well," he said.
England lead an ongoing five-match series 1-0 after the opening match was rained out. The hosts have already dethroned India as the world's No. 1 Test side.
Swann, meanwhile, was all praise for his skipper Alastair Cook, who scored a match-winning 80-run knock in the second ODI.
"He's just letting his bat do the talking. It is very good for Cooky. He works very hard on his game, no-one works harder on his game although Kevin Pietersen might tell you differently," he said.
"It is brilliant that it is paying off for him. He was written off - he's even hitting sixes these days. So you never know, hell might freeze over," he added.