Expressing concern over the riots that have rocked United Kingdom over the last few days, Indian cricket team manager, Anirudh Chaudhary said that the squad will continue its tour in Birmingham despite the violence.
Since August 6, violent riots have broken out in several cities of England, with irate demonstrators setting buildings on fire and looting shops with brazen impunity.
The riots began in Tottenham town of north London, after a peaceful march to protest the death of 19-year-old Mark Duggan in a police shootout turned violent.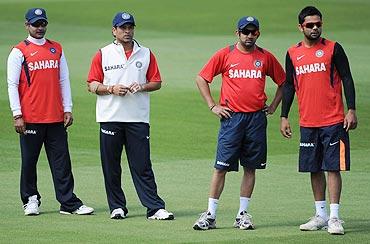 What began as a spark transformed into a blaze of violence, spreading to surrounding regions and even to cities and towns outside London.
Owing to the carnage, doubts had risen on whether the third cricket Test between India and England would start on Wednesday.
Dismissing rumours suggesting the contrary, Chaudhary told mediapersons with cautious optimism that the series was on track and that all Indian players were safe.
"What I wish to say is that the BCCI is in constant touch with us. They are monitoring the situation very closely and they are taking all necessary steps to ensure that the players and the situation here is safe and sound," Chaudhary said.
When asked whether the series would go ahead as scheduled, Chaudhary said: "As far as I am concerned, as of now, it is on schedule."
Till now, London and other neighbouring areas have been hit by three consecutive nights of riots, looting and arson by masked youths who have wrecked shopping streets in parts of the capital.
Police arrested 200 people Monday night, bringing the total arrests over three days of rioting to 450.
However, with violence spreading to other British cities, police are braced for further unrest.
Reflecting on the tumultuous situation, Chaudhary said the management had been quick to inform the team members about the riots as soon as the news broke.
"It was dinner time when we came to know of certain things. A couple of our boys and my security advisor informed us that there are certain incidents happening and we immediately, on the advice of our security advisor, sent a message out to all the members of the team and the support staff, requesting them to return to the hotel as a precautionary measure," said Chaudhary.
From London to Liverpool to Birmingham, groups of young people who appear to feel marginalised after years of high unemployment are taking out their anger by destroying property, looting shops and setting fires.
The riots are the worst the UK has seen for decades. British government officials have promised to prosecute rioters and have called them opportunistic criminals.
The level of violence has clearly taken the police by surprise and officers have repeatedly described the scale of the riots as 'unprecedented.' The talk is now of a tougher response.
Meanwhile, in New Delhi, the vice president of the Board of Control for Cricket in India (BCCI), Rajiv Shukla, said they were in constant touch with the England and Wales Cricket Board (ECB) to gauge the situation.
"So far, we are sticking to the schedule, but we are in touch with the English cricket board and the team management is also in touch with the English cricket board. I think when the situation arises, they will take a decision," said Shukla.
Some 16,000 police personnel will be on duty in London on Tuesday night, far in excess of the 2,500 that would normally be in place with another night of widespread violence predicted.
Though UK has said the violence would not affect preparations for next summer's Olympic Games, television images of rioting and blazing buildings, combined with disarray in the transport network, are likely to leave an impact as Britain struggles to avoid an economic recession.