Bikash Mohapatra reports on the first day's play in the second Test from Trent Bridge.
On the eve of the second Test at Trent Bridge (Nottingham), Andrew Strauss had feared an Indian backlash.
A day later, England's captain witnessed his apprehensions coming true, especially in the second session. Having come back well after losing two wickets in the day's opening session, the England team was bent on providing a perfect example for Murphy's Law.
Everything that could have gone wrong for Strauss's team went wrong in that session -- one that was disastrous to the core for them while being an extremely productive one for the visitors.
However, at the start of the third session it was India's turn to face rearguard resistance.
It was a perfect counterattack by Stuart Broad (64) and Graeme Swann (28). Something the situation demanded and a fillip their team desperately needed.
The stand helped England put up 221 (in 68.4 overs) in their first essay -- fractionally better than the 198 they scored at the same stage at Nottingham four years back.
India then got off to the worst possible start, Abhinav Mukund hitting James Anderson's first ball straight to Kevin Pietersen at gully.
The experienced duo of Rahul Dravid (seven not out) and VVS Laxman (13 not out) though ensured the visitors survived a turbulent last hour, ending the day at 24 for one (15 overs).
Morning session (69 runs, 27 overs, two wickets):
The conditions were overcast; the ground, famous for generating considerable swing. Making a decision was easy.
When M S Dhoni called correctly and invited England to bat first, few were surprised. Many experts felt it was a good toss to win.  
As regards the teams, it was fairly even from the bowling point of view, at least.
If India had lost Zaheer Khan, England was without Chris Tremlett, both out with hamstring strains.
But it was in the batting department that the visitors suffered a heavy blow -- Gautam Gambhir, hit on the elbow by a Matt Prior shot while fielding in the opening Test, was forced to pull out, ensuring Yuvraj Singh a Test comeback.
That meant Rahul Dravid would have to continue doing his opening duties with Abhinav Mukund when India bats.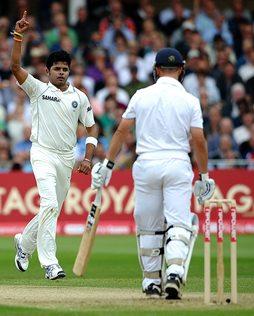 A new-look Ishant Sharma vindicated his captain's decision as early as the sixth over, when he had Alastair Cook (2) out leg before. The batsman had survived an equally loud appeal in the previous over, by Praveen Kumar.
On this occasion, he wasn't as fortunate. Replays clearly indicated the ball went over the top. But umpire Marais Erasmus had raised his finger.
DRS (read part DRS) had come to India's rescue again. The BCCI's stand had benefited for a second time in the two Tests.
Cook's dismissal meant his dismal run at Trent Bridge continued. The left-hander has now scored just 123 runs in eight innings (@ just over 15) in the East Midlands venue.
Sreesanth was introduced into the attack in the 11th over, replacing Kumar (5-1-7-0), and he struck with his fourth delivery, having Jonathan Trott (4) caught by VVS Laxman at second slip.
With England reduced to 24 for two, it marked a great start for India.
The arrival of Kevin Pietersen at the crease though ensured a positive change for England. The 31-year-old, fresh from his spectacular 202 not out in the winning cause at Lord's, cut loose by smashing successive bouncers from Sreesanth rather disdainfully to the fence.
Another couple of boundaries, off Kumar on this occasion, and he looked threatening. He combined with a resolute Strauss to steady the proceedings for the home team.
At lunch, England had scored 69 for two, after 27 overs.
Strauss is batting on 29 while Pietersen on 26; the duo having so far put on 46 runs for the third wicket. 
Post-lunch session (55 runs, 24 overs, six wickets):
There couldn't have been a better start for India in the second session.
It was just the fourth ball after resumption (post-lunch), and Pietersen erred by playing at an out-swinger from Sreesanth. He paid a heavy price for it, Raina taking a comfortable catch at third slip.
Pietersen scored 29, his 53-ball innings comprising four hits to the fence. More importantly, he was playing well and looked to have settled down, before a poor shot-selection did him in.
The 31-year-old surely would have been disappointed with himself for missing out on such a good start. His third-wicket stand with captain Strauss was worth 50 runs for England.
In came Ian Bell (31) and along with Strauss hung around for some time, doing little, before Kumar came back to strike twice in the 37th over and cripple the England's batting.
Kumar, who had done the same twice in the opening Test at Lord's, first had Strauss caught by Raina at third slip, and, three balls later, got Eoin Morgan out leg before.
Strauss missed out on yet another good start, while Morgan, for the second time in the series, did not trouble the scorers.
And when Sreesanth had Matt Prior, who had bailed England out in both the innings at Lord's, caught by Dravid -- his 400thinternational catch -- at first slip, all seemed over for the hosts.
The home team was reduced to 88 for 6 by the 40th over.
It would have been worse had a well-settled Bell (then on 22) not been put down by Dravid at first slip, Kumar being the unfortunate bowler.
In fact, Bell had started walking back before he noticed the blemish.
Tim Bresnan (11) hit a boundary off Ishant to help bring up the English hundred. He and Bell put together 29 runs for the seventh wicket to steady the ship a bit.
Then Ishant struck again, having Bresnan caught by Dravid at first slip with a back of length delivery that angled in.
The 22-year-old bowler then struck another blow, a vital one this time, having a well-settled Bell caught behind. England had collapsed from 73 for 2 at lunch to 124 for 8 by the tea break.
Complete domination by India.
Post-tea session: 
England (97 runs, 17.4 overs, two wickets): 
The English innings had faced considerable damage pre-tea and it couldn't have got any worse than it already was. Nothing much was expected from the duo. An offensive, therefore, seemed the only logical option. And to say it ensured better results would be an understatement.
It all started in the second over after resumption when Swann smashed Ishant for a couple of boundaries. Broad repeated the treatment in Sreesanth's next over. And before India could realize 31 runs had been scored in the first three overs after tea.
To be honest, Dhoni's men didn't quite expect this riposte and took some time to recover. Ample time for the Broad and Swann combine to gain more confidence and inflict further misery on the visitors.
With the quicks being clobbered all over the park, Dhoni, in a desperate move handed the ball to Harbhajan (in the 55thover). The spinner had bowled only an over in the day till that point and failed to make an impact. He was taken off after just two overs (12 runs).
As Broad and Swann made merry, India seemed to have lost their grip on the match. Their players were taken aback by this English resilience. Mukund putting down a sitter off Kumar (with Swann on 23) at mid-on was a clear indicator of the nervousness that suddenly crept into the Indian camp.
Respite came when Kumar had Swann caught at gully, ironically by Mukund, in the 62nd over.
Swann's 35-ball knock comprised three boundaries. More importantly, he helped Broad put on 73 runs for the ninth wicket (off just 70 balls), a partnership that had given the English total a semblance of respectability.
Soon after, Broad hoisted a Kumar delivery straight over the bowler's head to complete a well-deserved half century. It was the 25-year-old's eighth Test fifty and his second in succession against India -- after his unbeaten 74 at Lord's.
Besides, it was the highest contribution in this English innings. Broad was finally dismissed by Harbhajan, Tendulkar taking the catch at deep midwicket. 
Photograph: Getty Images