The three-day India A camp at the Feroz Shah Kotla stadium in New Delhi started on a lacklustre note as top batsmen like Ajinkya Rahane, Robin Bist, Cheteshwar Pujara were not provided with a single net-bowler by the Delhi and Districts Cricket Association (DDCA).
All the more bizarre were contradictory statements given by India A coach Lalchand Rajput and DDCA vice-president Chetan Chauhan.
When Rajput was asked as to whether they had intimated the local association about need for a number of net bowlers, he said, "Yes, we had intimated them."
- If you're a good player, you can do well in all formats: Rahane
On being asked why their demand was not, he replied: "You should ask the host association."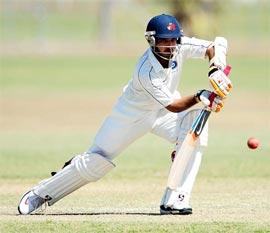 When Chauhan was asked the same question, his answer was radically opposite of what Rajput told the media.
"It was the duty of the team management to inform us about their requirement. They have told us today only and we would be arranging for some good net bowlers for the next two days," Chauhan said.
"Also we have allowed them to practice on the centre wickets which normally we don't allow. Just because, the practice wickets weren't good enough, we have allowed them to practice."
It was surprising that the matter was not sorted out as both Rajput and Chauhan were together in Chennai on Friday to collect their one-time benefit cheques from the BCCI.
It was bowlers like Parvinder Awana, Bhuvenshwar Kumar, Rahul Sharma, Akshay Darekar who did bulk of the bowling in extremely hot conditions in Delhi.
On the Caribbean tour, Rajput said that he wouldn't like to put undue pressure on the likes of Rahane, Pujara or Rohit Sharma who are in contention to fill in Rahul Dravid's slot in the Test team.
"They should play their natural game and I don't think that a Rahane or Rohit is under extra pressure to perform. Even someone like Pujara who was the original choice to replace Dravid but missed out due to injury has a good chance to stake his claim. The same can be said about Manoj Tiwary," Rajput said.\
The former Mumbai opener also admitted that nature of the pitches in the Caribbean will be like ones in the sub-continent sans Barbados where they might get a bouncy strip.
Rajput was, however, non-committal whether highest scorer in the last domestic season Robin Bist would get a chance considering all the other specialist batsmen have played for India in one format or the other.
"It is very difficult to say right now as to who all will play."
The India A team, led by Pujara, will play three Test matches, two T20s and three ODIs against West Indies A during their unofficial tour starting on June 2.