Ashok Menaria and Kedar Jadhav hit half centuries as India 'A' scored a nail-biting two-wicket victory over New Zealand 'A' in the third and final one-dayer in Visakhapatnam on Thursday.
The victory, which was achieved with four balls to spare, gave the hosts a 3-0 series triumph.
Mandeep Singh produced an unbeaten 27-ball 37, which included three boundaries and a six, towards the end as India chased down a stiff 291-run target.
The Indians suffered a top-order collapse before all-rounder Menaria scored a brisk 69 off 52 balls, that included two fours and eight sixes. He was involved in a brilliant 128-run fifth-wicket stand off just 107 balls with Jadhav (57).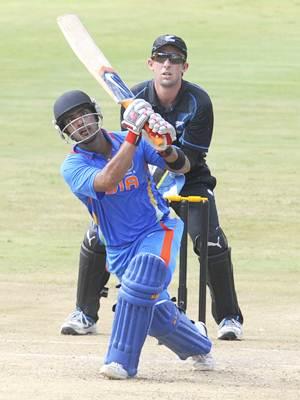 Having sealed the three-match ODI series already, India tested its bench strength by including spinner Jalaj Saxena and batsman Sanju Samson.
Earlier, opener Anton Devcich top-scored for New Zealand with an 85-ball 66, studded with eight boundaries, while Corey J Anderson (59) and skipper Tom Latham (53) also hit half centuries each to contribute to the team's total after being put in to bat.
The Indians were sloppy in the field as they dropped two catches, including that of Anderson, allowing the Kiwis post a huge total.
Basant Mohanty (2-39), Menaria (2-45) and Jalaj Saxena (2-60) picked two wickets each.
In reply, India lost four wickets for just 79 runs in 19.2 overs despite opener Robin Uthappa scoring a fine 50-ball 46, which included six fours and a six.
Skipper Unmukt Chand, who scored 94 and 59 in the first two ODIs, failed, out for just 11.
Menaria walked to the middle after Uthappa and Sachin Baby (16) were dismissed in successive overs. The left-hand batsman fired from the word go and accelerated the run-rate by hitting three sixes off Todd Astle's first over before punishing him again for two consecutive maximums -- one over long-on and another over long-off -- in his next over.
From 79 for four in 19.2 overs, Menaria and Jadhav added 100 runs in the next 12 overs.
Menaria hit a four off Devcich to bring up his half-century off just 26 balls, with the help of two fours and six sixes.
Jadhav, meanwhile, got a 'life' when he was dropped on 30 off Ish Sodhi's over. He capitalised on the advantage to hit a solid 57 off 61 balls (5x4, 2x6).
But just when it seemed as if India would have a cakewalk, the hosts suddenly lost two wickets in an over, Jadhav getting run-out and Scott Kuggeleijn picking the prized wicket of Menaria off the fourth ball of the over, with the scorecard reading 207 for six, still 84 runs short of victory.
Mandeep then played with a lot of responsibility and was well-supported by Jalaj Saxena (19) and Rahul Sharma (20).
He shared a solid 35-run stand with Saxena for the seventh wicket, before putting on another valuable 47-run partnership with Rahul for the eighth wicket.
Mark Gillespie was the pick of the New Zealand bowlers with figures of three for 43.
Scorecard
New Zealand 'A':
A Devcich c Chand b Menaria 66
L Ronchi c Samson b Mohanty 0
C Cachopa c Jadhav b Sharma 33
C Anderson b Jalaj S Saxena 59
T Latham b Menaria 53
C Munro c Samson b Jalaj S Saxena 1
D Bracewell run out 0
T Astle c Sachin Baby b Mohanty 27
S Kuggeleijn run out 29
I Sodhi not out 0
Extras: (lb 9, w 12, nb 1) 22
Total: (for 9 wickets; 50 overs) 290
Did not bat: M Gillespie
Fall of wickets: 1-6, 2-109, 3-123, 4-214, 5-232, 6-232, 7-234, 8-290, 9-290
Bowling: Sandeep Sharma 9-1-44-0(1w), B Mohanty 6-0-39-2(2w), Jalaj Saxena 10-1-60-2(3w), R Sharma 10-0-48-1(1w), A Menaria 8-0-45-2(1nb), U Chand 3-0-18-0, Sachin Baby 4-0-27-0
India 'A':
R Uthappa c Ronchi b Anderson 46
U Chand c Ronchi b Gillespie 11
S Samson c Kuggeleijn b Gillespie 5
Sachin Baby b Sodhi 16
K Jadhav run out (Devcich) 57
A Menaria c Sodhi b Kuggeleijn 69
M Singh not out 37
J Saxena c Ronchi b Bracewell 19
R Sharma c Munro b Gillespie 20
Sandeep Sharma (1) not out 2
Extras: (lb 5, w 3, nb 1) 9
Total: (for 8 wickets; 49.2 overs) 291
Did not bat: B Mohanty
Fall of wickets: 1-37, 2-43, 3-78, 4-79, 5-207, 6-207, 7-242, 8-289
Bowling: M Gillespie 10-1-43-3(1nb), D Bracewell 10-1-37-1(1w), S Kuggeleijn 10-1-71-1, A Devcich 3-0-27-0,Corey J Anderson 4-0-18-1(1w), I Sodhi 7-0-38-1(1w), T Astle 2-0-37-0, C Munro 3.2-0-15-0.
Image: Mandeep Singh