Pakistan's celebrity marriage is over.
Imran Khan, cricketing legend and international playboy-turned-political crusader said on Tuesday he had divorced British socialite Jemima, ending months of speculation among the chattering classes of London and Lahore.
"I sadly announce that Jemima and I are divorced," Imran said in a brief statement issued by his Justice Movement party.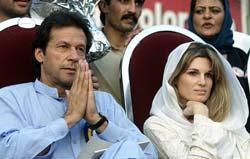 "This was a mutual decision and is clearly very sad for both of us. My home and my future is in Pakistan.
"Whilst Jemima tried her best to settle here, my political life made it difficult for her to adapt to life in Pakistan."
Rumours of an impending split have intensified this year as Jemima, 30, spent more and more time in London where she is studying for a master's degree at the School of Oriental and African Studies (SOAS).
The stunning daughter of the late Anglo-French billionaire Sir James Goldsmith immersed herself in Pakistani culture after marrying the dashing Imran, 21 years her senior, in 1995, winning her grudging respect in the Muslim country of 150 million people.
Yet the marriage remained controversial, largely because Jemima was not Pakistani and converted to Islam from a non-Muslim background.
"Never in my wildest dreams did I envisage a controversy such as this," Imran once wrote. "I suppose if my marriage proves one point, it is that I am not a politician."
JEMIMA'S SUPPORT
Jemima took Britain's Princess Diana, to whom she has been compared, on a tour of Imran's Shaukat Khanum Memorial Cancer Hospital in the eastern Pakistani city of Lahore in 1996.
The following year, speaking in halting Urdu to a group of 300 women, she campaigned on her husband's behalf in elections.
| | |
| --- | --- |
| | Also Read |
| | |
Despite enjoying cult status for captaining Pakistan's cricket team to a World Cup victory in 1992 and a single-minded dedication to his new career, Imran has failed to make his mark in politics.
His party won just one seat in the National Assembly at elections in October, 2002.
Questions have lingered over how well Jemima would bridge the gulf in lifestyles between London's glitzy party circuit and conservative and impoverished Pakistan.
Friends said they believed it was the cultural divide and Jemima's long separations from friends and family that proved the undoing of the glamorous match.
The couple endured a U.S. paternity suit brought by heiress Sita White who alleged Imran was the father of her daughter, while Jemima was accused of illegally trying to export antiques from Pakistan to Britain. The couple denied any wrongdoing.
Neither Imran nor Jemima were immediately available for comment.
Imran and Jemima have two sons, Suleiman and Qasim.