His team is facing a do-or-die battle against South Africa after losing its Champions Trophy opener, but Pakistan captain Misbah-ul-Haq remains unruffled, choosing to highlight the fine performance of his bowlers in the narrow loss against WI on Friday.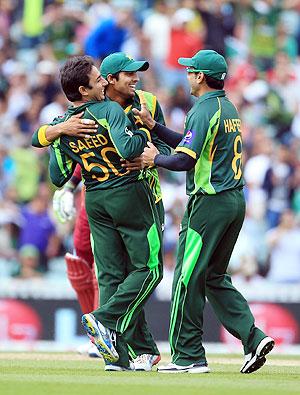 "I think the biggest positive from this game was our bowling. All the seamers bowled really well and bowled their heart out and took wickets. And at one time we were really in the hunt, so it's really a big positive, and it just creates pressure on the opposition, Misbah said.
"They bowled really well against South Africa (in the practice game) and even today. So I think it gives confidence to the team and also to the batsmen that if they can go and just give them a good total, our bowling attack can win the matches for us," he added.
Monday's match against South Africa will be a knockout of sorts. In Cardiff on Thursday, South Africa lost their tournament-opener against India by 26 runs and now face the challenge of playing Pakistan without two of their main strike bowlers.
Dale Steyn is still doubtful and Morne Morkel is back in South Africa after suffering a groin injury in the India match.
The close defeat against West Indies has upset Pakistani fans in England. In Birmingham, Pakistan are expected to enjoy more 'home' support and Misbah wants them to keep faith in his team.
"I think it's almost now a good state for us to just go there and try to win every game, and it is possible. Pakistan did it many times before. So just be positive as supporters of the Pakistan team. Go there and try to play positive cricket and try to win every game," Misbah said.
It is unlikely that Misbah will bat higher up the order against South Africa. He urged his top order to bat with more responsibility and play out the entire 50 overs. Against the Caribbeans, Pakistan were all out in the 48th over for 170.
"It's too early after one game (to change the batting slots). You can't just change things here and there to create panic in your camp. I think what we need to do as a batting unit is to execute our plans. Go in there and try to play our 50 overs and that's what normally in these sort of conditions you can do.
"...even after losing three wickets (for 15 runs) at one stage, the game was under control, but then we made mistakes. So it's just taking responsibility and taking the games to the end. The batsmen need to be more responsible and just carry on," said Misbah.
Photograph: Richard Heathcote/Getty Images