Pakistani umpire Aleem Dar has reportedly been relegated to the peripheral fourth umpire role following the ball-tampering allegations in the ICC Champions Trophy that rocked the England team.
Dar infuriated England, especially captain Alastair Cook, by changing one of the balls during the team's defeat by Sri Lanka at The Oval last week, fuelling controversy over how the home team had generated reverse swing so quickly in their opening fixture against Australia, the Guardian reports.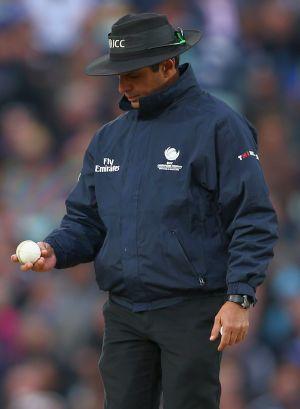 The report further said that Dar's role as fourth umpire will be purely supportive, with one of his official roles is to make sure that the batteries are working in the light meters.
According to the report, Kumar Dharmasena and Rod Tucker will be the on-field umpires on Sunday with responsibility for monitoring the condition of the balls, adding that Bruce Oxenford will make the replay decisions in his third umpire role.
However, the report said that the issue of reverse swing might become irrelevant in the crucial final in Birmingham as the area may be grey and damp on Sunday according to the weather forecast, making orthodox swing the most potent attacking weapon.
India's previous appearance in the Champions Trophy final was wrecked by the weather, as they had to share the trophy with Sri Lanka after heavy rain in Colombo prevented a finish even after a reserve day, the report added.
Photograph: Paul Gilham/Getty Images