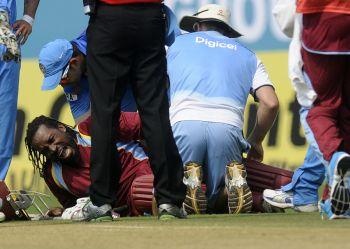 West Indies were on Thursday dealt with a huge blow after their flamboyant opening batsman Chris Gayle suffered a hamstring tear on his left leg during the first cricket one-dayer against India in Kochi.
Doctors who examined Gayle said that he would need two to four weeks to recover from his injury, which would mean that he is likely to be ruled out of the remainder of the three-match ODI series.
Gayle, who was run out in the second ball of West Indies innings, was rushed to a local hospital after he hurt himself while making a desperate dive to reach his crease. He was carried out of the ground in a stretcher.
Doctors from the private Medical Trust hospital, led by Orthopedic surgeon Bipin Theruvil, examined Gayle at the stadium and was administered first aid there.
An MRI scan at the hospital found that there was a "hamstring tear on his left leg and small blood clot around".
"The injuries will take at least 2-4 weeks to heal," Dr Bipin said.
Image: Chris Gayle
Photograph: BCCI