Tillakaratne Dilshan scored his third consecutive half-century as Sri Lanka beat New Zealand by 36 runs under Duckworth/Lewis in the third and final one-day international to clinch a 1-1 series draw on Saturday.
The match was delayed due to rain and initially reduced by seven overs before a further interruption during the Sri Lanka innings curtailed it to 33 overs each.
A fine opening partnership of 91 off 86 balls from Sri Lanka's experienced batters Mahela Jayawardene and Dilshan helped them post a challenging total of 211-8.
Dilshan completed his third half-century of the series scoring 53 off 50 balls, including eight fours, to take the man-of-the-series award.
Jayawardene, promoted up the order to make way for all-rounder Thisara Perera, scored a fluent run a ball 46 with eight fours.
New Zealand faced a tall order on a slow and turning pitch and found themselves in deep trouble when spinners Sachitra Senanayake and Rangana Herath reduced them to 63-6 in 19 overs.
Senanayake who opened the bowling took two top-order wickets for 14 runs to take the man-of-the-match award.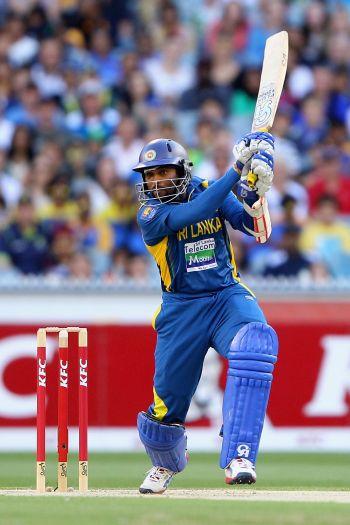 Nathan McCullum, in partnership with James Neesham, gave New Zealand some hope with an unbroken stand of 63 off 36 balls.
Yet despite that brave effort, they were still trailing under the D/L method on 126-6 after 25 overs when the umpires called off the game for bad light amid protests from the two New Zealand batsmen.
Neesham was unbeaten on 42 and McCullum on 35 off 19 balls.
"We had high hopes of winning the series 2-0, but to walk away 1-1, we sort of feel empty to tell you the truth because I felt that we had a great opportunity to win but due to circumstances it wasn't to be," said New Zealand stand-in captain Kyle Mills.
"You have a scheduled day's play for a day game but the scheduled close of the game is after sunset when it is not possible to play.
"It doesn't sound like common sense to me especially when we fought our way back and got ourselves into a position to potentially win it.
"We were in a better position today than we were in the last game which we won," he said.
Sri Lanka captain Angelo Mathews said it was too dark to carry on and his fielders had difficulty seeing the ball.
"The light was terrible to be honest, the fielders couldn't actually pick up the ball," said Mathews.
"They (New Zealand) obviously wanted to carry on because they wanted to bat through to win but it was getting very dark and unsafe," he added.
The first match was abandoned due to rain and New Zealand won the second by four wickets under Duckworth/Lewis.
The two teams will meet again in a two-match Twenty20 series in Pallekele on November 19 and 21.
Scorecard
Sri Lanka innings
M. Jayawardene c Ronchi b McCullum 46
T. Dilshan c Ronchi b McClenaghan 53
K. Sangakkara b McCullum 0
L. Thirimanne c Latham b Mills 23
A. Mathews c Ronchi b McClenaghan 0
D. Chandimal lbw b Neesham 15
T. Perera c Latham b Ellis 8
N. Kulasekara c Mills b Neesham 14
S. Senanayake not out 21
R. Herath not out 17
Extras: (b-1 lb-3 nb-1 w-9) 14
Total: (for eight wickets, 33 overs) 211
Fall of wickets: 1-91, 2-91, 3-110, 4-110, 5-144, 6-146, 7-165, 8-184
Bowling: Mills 6-1-35-1 (w1), McClenaghan 7-0-34-2 (w3), Ellis 6-0-51-1 (w2, nb1), Devcich 3-0-31-0, Nicol 2-0-17-0 (w1), McCullum 4-0-13-2, Neesham 5-0-26-2 (w2).
New Zealand innings
T. Latham lbw b Senanayake 9
A. Devcich c Herath b Kulasekara 5
R. Nicol st Sangakkara b Herath 1
G. Elliott b Herath 3
C. Munro b Senanayake 1
L. Ronchi c Senanayake b Herath 23
J. Neesham not out 42
N. McCullum not out 35
Extras: (lb-1 w-6) 7
Total: (for six wickets, 25 overs) 126
Fall of wickets: 1-12, 2-17, 3-21, 4-22, 5-26, 6-63
Bowling: Senanayake 5-1-14-2, Kulasekara 4-1-20-1 (w3), Mathews 1-0-4-0, Herath 6-0-25-3, Dilshan 6-0-31-0, Malinga 3-0-31-0 (w3).
Image: Tillakaratne Dilshan
Photograph: Robert Prezioso/Getty Images