Jonathan Trott notched up a hundred before England knocked out six Haryana wickets but their third and final practice match ahead of the Test series against India ended in a tame draw on the last day in Ahmedabad on Sunday.
Haryana were 133 for six in 42 overs, chasing 441, when the match was stopped.
Resuming at 73 for two after tea, opener Nitin Saini completed a half century before becoming Monty Panesar's only victim of the day when the left-arm spinner had him caught behind after an 84-ball stay.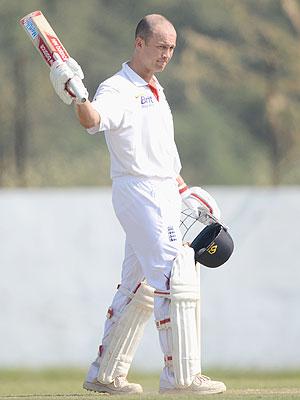 Saini struck nine fours during his entertaining knock but the rest of the Haryana line-up failed to impress and pacer Tim Bresnan picked up two wickets to finish with a five-wicket haul in the match.
Earlier, England had useful batting practice ahead of their first cricket Test against India starting November 15, as they declared their second innings at 254 for six to take an overall 441-run lead.
England declared midway into the second session as soon as star batsman and first innings centurion Kevin Pitersen was out for a two-ball duck off the bowling of off-spinner Jayant Yadav.
Opener Jonathon Trott struck a century as England reached 221 for two at lunch to extend their lead to 408 runs.
Trott, overnight on 61, retired after scoring 101 to give his colleagues batting practice in England's final tour game before the first Test.
Captain Alastair Cook, who was batting on 2, then ended their innings at 254 for six.
The visitors added 33 runs to their lunch score of 221 for two. They played 11.2 overs in the session and 75.2 overall, scoring at the rate of 3.37 runs per over.
Pacer Sanjay Budhwar scalped three quick wickets before Yadav removed Pietersen.
Ian Bell (48) was the first to go in the middle session off the bowling of Budhwar who then claimed the wickets of Tim Bresnan (14) and Samit Patel (0).
Chasing the stiff target, Haryana lost first innings centurion Rahul Dewan (13) and Sachin Rana (5) in successive overs as they were reduced to 45 for two after 10.5 overs.
Opener Nitin Saini was going strong on 42 while Sunny Singh was giving him company on 11.
After resuming the day at 118 for no loss, England added 103 runs in 26 overs in the morning session at a healthy run rate of just a fraction less than four per over.
Haryana bowlers had to toil hard for the second time in the match, having allowed England to pile on 521 in the visitors' first innings.
England were ahead by 188 runs in the first innings.
Scoreboard (Day 4)
England XI 1st innings: 521 all out
Haryana 1st innings: 334 all out
England XI 2nd innings (overnight 118 for no loss)
Nick Compton c Saini b Rana 79
Jonathan Trott retired hurt 101
Ian Bell c Rana b Budhwar 48
Matt Prior run out 2
Tim Bresnan c Mishra b Budhwar 14
Samit Patel c Sunny Singh b Budhwar 0
Alastair Cook not out 2
Kevin Pietersen c Saini b Yadav 0
Extras: (B-4 LB-2 W-2) 8
Total: (in 75.2 overs) 254 for 6, declared
Fall of wickets: 1-162, 2-220, 3-242, 4-242, 5-253, 6-254.
Bowling: Budhwar 20-4-51-3, Vashisht 17-3-64-0, Rana 14-1-42-1, Saini 13-2-46-0, Khod 3-0-24-0, Yadav 8.2-2-21-1.
Haryana 2nd innings:
Nitin Saini c Prior b Panesar 50
Rahul Dewan lbw b Meaker 13
Sachin Rana lbw b Patel 5
Sunny Singh c Prior b Bresnan 25
Abhimanyu Khod c Prior b Bresnan 1
Sandeep Singh c Prior b Onions 7
Amit Mishra not out 19
Jayant Yadav not out 3
Extras: (B-5, LB-5) 10
Total: (in 42 overs) 133 for 6
Fall of wickets: 1-36, 2-45, 3-88, 4-94, 5-96, 6-110.
Bowling: Onions 9-2-34-1, Bresnan 7-2-13-2, Meaker 7-2-19-1, Samit Patel 6-0-26-1, Panesar 10-5-18-1, Pietersen 3-1-13-0.
Photograph: Gareth Copley/Getty Images