India has snatched the number one rank from England in One-dayers, courtesy their impressive 3-2 series-win over the visitors.
India, who started the series in third place at 117 ratings points, ended at 119 to re-claim the top spot in the ICC ODI Championhsip table after a gap of three years.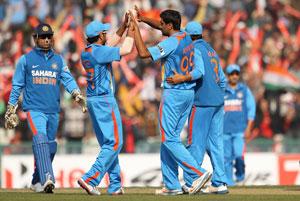 England, which had started on 121 ratings points, slipped to 119 ratings points after the series loss, only to see India finish ahead of it by 0.2 when the ratings are calculated beyond the decimal point.
India had become the number-one ranked side after winning the third match of the series on January 19 and then held onto the spot thereafter.
England had gained the number-one spot in September 2012, while it is the second time since September 2009 that India has topped the current ranking system since it was introduced in 2002.
India's cause was also helped by South Africa, who lost to New Zealand 1-2. As a result, South Africa lost nine ratings points and dropped from second to fourth position, one ratings point behind third-ranked Australia.
New Zealand gained seven ratings points and moved ahead of Bangladesh into eighth position with 79 ratings points.
Meanwhile, Australia and Sri Lanka have retained their pre-series ODI ratings after their series ended in a two-all draw. Australia is now third at 113 ratings points while Sri Lanka is three ratings points behind in fifth spot.
With 12 ratings points separating number-one ranked India from sixth-ranked Pakistan, the battle for the ICC ODI Shield and a cash award of $175,000 is heating up.
There are a number of additional series to be played before the 1 April cut-off date. Australia will take on the West Indies between 1 and 10 February, England will travel to New Zealand for a three-match series from 17 February, and South Africa will host Pakistan in a five-match series from March 10.
Every match counts as the six leading sides battle to finish inside the top two.
The side that tops the Championship table on the 1 April cut-off date collects a cheque of $175,000 along with a Shield, while the team that finishes second receives a cheque of $75,000.
Photograph: BCCI