England off-spinner Greame Swann on Friday revealed that he had received death threats following England's disastrous 0-5 loss to India in the just-concluded one-day series.
England lost the last ODI of the five-match rubber at Eden Gardens on Tuesday following a dramatic collapse, which saw them lose 10 wickets for an addition of just 47 runs.
Chasing a victory target of 271 runs, the visitors were cruising along at 129 for no loss before Varun Aaron castled skipper Alastair Cook to start the rot.
"Although I don't condone death threats on Twitter, I could almost understand it when I had a couple of hundred people threatening all manner of retribution after Tuesday's match," Swann wrote in his column for The Sun.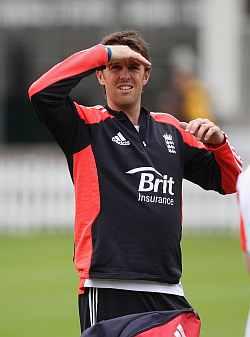 The bowler, though, said he could understand the anger but added that it was just a game of cricket.
"Not everyone in cyber world has a perspective -- after all, it is only a game of cricket. But you can almost understand why people get wound up.
"It can't be easy to watch us, not just losing but losing the way we did," Swann insisted.
The 33-year-old, meanwhile, insisted that his team's poor run in the sub-continent had nothing to do with the publication of his autobiography in which the cricketer criticised Kevin Pietersen's stint as the captain.
"England have endured a horror month but I can state right now it has nothing to do with what I wrote about Kevin Pietersen in my book," Swann said.
"People have claimed my observation that KP is not a natural leader and should not have captained England has caused dressing-room divisions and a breakdown in team spirit. Well, anybody who thinks that does not know this England team.
"The reason we lost the one-day series 5-0 to India is because we've been outplayed in conditions which suit the home team. No excuses, we've been hammered," he added.