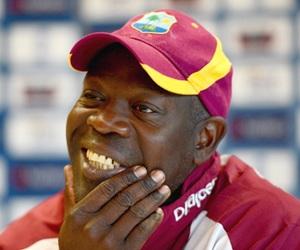 West Indies coach Ottis Gibson pulled no punches in the dressing room after his team capitulated to New Zealand inside three days in the second Test at the Basin Reserve.
"Embarrassed was mentioned. Lack of fight was mentioned," Gibson told reporters after a training session on Saturday, which was supposed to be the fourth day of the Test.
"Those are things you don't want to be hearing too often in your dressing room. We haven't heard those things too often in our dressing room recently.
We have played some pretty good cricket ... but we come here and we are making it tough for ourselves.
"New Zealand are playing very well but we're not standing up to what they're offering. That's the disappointing thing."
New Zealand took a 1-0 lead in the three-match series on Friday after beating the visitors by an innings and 73 runs, with left arm pace bowler Trent Boult capturing career-best figures of 10-80.
Boult and fellow pace bowler Tim Southee bowled full and allowed the northerly wind, pitch and overhead conditions to help them exert tremendous pressure on the visitors' batsmen.
The effect of that pressure was evident in the dip in performance of Darren Bravo.
In the drawn first test in Dunedin, the lefthander had scored 218 in West Indies' second innings of 507 and batted for more than nine hours.
In Wellington, Bravo scored a total of four runs and faced 14 balls.
"As a batting group we aren't riding out the good periods when New Zealand are on top," Gibson said.
"All it requires is a bit of application and someone to dig in, ride out that tough period then understand it will get a bit easier.
"We talk about getting bowlers into their second and third spells then capitalising but we are losing wickets often in first spells."
New Zealand's bowlers had exploited the conditions at Wellington, Gibson said, and he felt there was not a technical or mental problem facing his batters, who had dealt with high quality, swing bowling at pace in the past.
"We have faced swing bowling before. Last time we went to England we faced swing bowling," Gibson said.
"We have seen these bowlers over the last two weeks, they're quality bowlers in these conditions, but these are the same bowlers we saw in the West Indies 12 months ago and we won.
"So it's a question of advice, backing your ability and having pride in the West Indies brand and showing better.
"I know we can do it, because we have done it before."
The biggest concern for Gibson was that his pace bowlers were struggling to get accustomed to New Zealand conditions and still bowling too short.
They had also squandered the green pitches that had been prepared for the first two Tests.
"Any time you see a wicket with grass on like we have here, especially this one where the ball swung as well, of course you expect better from your attack when you win the toss and put the opposition in," Gibson said.
"Our bowlers are probably a little quicker than theirs and we have bowled a bit short.
"We have been inconsistent with everything we have done. As a bowling group we haven't stuck to plans for long enough.
"We know the guys can deliver because they've done it before for us. It's just getting them to do it consistently.
"That's the key word for the whole series."
Image: Ottis Gibson
Photograph: Gareth Copley/Getty Images