The Indian top-order batsmen got much needed batting practice against a below-par Leicestershire attack as they finished the first day of their opening tour match at a comfortable 333 for four Leicester on Thursday.
As many as three batsmen went on to complete their half-centuries with comeback man Gautam Gambhir's 54 being one of the notable contributions.
Shikhar Dhawan (60 retired), Cheteshwar Pujara (57 retired) were also among the runs as opener Murali Vijay (20) and batting mainstay Virat Kohli (29) were the ones to miss out on a scoring opportunity.
Rohit Sharma (43) entertained the India supporters with some classy strokes including the first six of the match while Ajinkya Rahane also did his cause no harm by notching up well-compiled unbeaten 47 as the duo added 74 runs in 20 overs.
The emphasis was on quality batting time. It seemed that each and every top-order batsmen was earmarked 100-odd deliveries and a chance to atleast get to 50-run mark.
Dhawan faced 100 balls and hit 12 fours while Gambhir had seven hits to the fence during his 101-ball knock.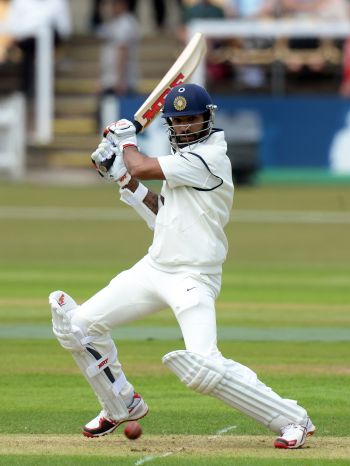 Cheteshwar Pujara consumed 98 deliveries hitting eight fours in the process. All these players retired after reaching their individual half-centuries although Dhawan was hit in the right forearm by a rising delivery from seamer Atif Sheikh.
While the physio came out and Dhawan retired hurt, it was more to do with a precautionary measure ahead of the Test series.
Rohit has so far played 62 balls hitting five fours and big six off tweaker Rob Sayer while Rahane hit seven crisp boundaries in 77 balls.
The Leicestershire attack, which is languishing at the bottom of the county table, can at best be termed mediocre as none of the Indian batsmen were in any sort of trouble as they quietly went along with their batting practice.
Making a comeback to the Indian team after nearly one and a half years, Gambhir was watchful in his approach and was looking to grind even against a simple attack, trying to stay at the crease as long as possible.
His approach worked as he brought up his 50 off 95 balls, and then retired out after scoring 54 runs. He hit seven fours.
Kohli and Pujara added 49 runs for the third wicket before tea-time. India added 108 runs in 30 overs bowled in the second session as the 200-run mark came up in the 55th over.
Earlier, Dhawan opened the innings with Vijay and the duo put on 46 runs for the first wicket. The latter took his time in the middle, facing 51 deliveries in all, trying to play with a straight-bat.
He scored 20 runs and hit three boundaries, before he was out caught by Angus Robson at gully off Anthony Ireland (1-23) while going for a drive.
Gambhir walked in at one down, bringing up the team 50 in the 17th over, and along with Dhawan increased the pace of scoring.
They put up 50 runs for the second wicket in just 63 balls, with Dhawan going on to complete his half-century off 79 balls.
At the stroke of lunch, India had crossed the 100-run mark in 27th over, with Dhawan and Gambhir making good use of the perfect bounce in the pitch and the ordinary Leicestershire attack.
This match doesn't have first-class status as all the 18 players would be tried out in the game.
Scorecard
India 1st innings
M Vijay c Robson b Ireland 20
S Dhawan retired hurt 60
G Gambhir retired out 54
C Pujara retired out 57
V Kohli b Thakor 29
A Rahane batting 47
R Sharma batting 43
Extras (b-9, lb-13, w-1) 23
Total (For 4 wickets; 90 overs) 333
Fall of wickets: 1-46, 2-165, 3-229, 4-259
Bowling: Ireland 21-8-55-1, Sheikh 15-3-50-0, Pearson 16-2-57-0, Thakor 10-4-31-1, Naik 9-0-36-0, Sykes 10-0-49-0, Sayer 7-0-30-0, Thornely 2-1-3-0.
Image: Shikhar Dhawan
Photograph: Tony Marshall/Getty Images