Outstanding centuries from Quinton de Kock and captain AB de Villiers helped South Africa coast to a series-clinching 82-run win over Sri Lanka in the third and final one-day international on Saturday.
South Africa, winning the toss and batting first, raced to 339-5, their highest ODI total against Sri Lanka.
In response, Sri Lanka made a blistering start with openers Kusal Perera (37) and Tillakaratne Dilshan (30) scoring 57 off 5.3 overs before the innings fell apart and they were all out for 257 in 44.3 overs.
Sri Lanka were made to pay dearly for letting De Kock off the hook on 32 and on 71 as the South African wicketkeeper went on to score 128 off 127 balls (12 fours, 3 sixes), his fifth ODI century and the fourth in his last six matches.
Man of the match De Villiers hit a sparkling 108 of 71 balls in reaching his 17th ODI hundred as the Sri Lankan bowlers struggled to find the right line, while battling against the strong winds that blew across the pitch.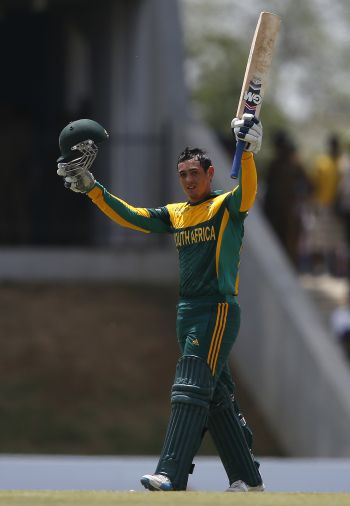 De Kock and Hashim Amla (48) gave South Africa the base on which to build their record total with a stand of 118 for the first wicket.
De Villiers then came to the crease and helped put the game beyond Sri Lanka's reach as he and De Kock hit 116 off 91 balls.
Skipper Angelo Mathews top scored for Sri Lanka with 58 but the rest of their batsmen failed to kick on after getting off to good starts.
Ryan McLaren was the pick of the South African bowlers, taking three wickets for 37.
South Africa won the first ODI in Colombo by 75 runs and Sri Lanka won the second at Pallekele by 87 runs.
Amla was named Man of the Series for his two centuries in the first two ODIs and 48 in the third.
The two teams will meet in a two-Test series starting at Galle on July 16.
Scorecard
South Africa
Hashim Amla c Senanayake b Herath 48
Q de Kock c Mendis b Senanayake 128
J Kallis lbw b Herath 4
AB de Villiers c Priyanjan b Mendis 108
JP Duminy c and b Mendis 29
D Miller not out 4
R McLaren not out 2
Extras: (B-4, LB-3, W-9) 16
Total: (for five wkts in 50 overs) 339
Fall of wickets: 1-118, 2-132, 3-248, 4-328, 5-328
Bowling: Malinga 10-0-85-0, Senanayake 10-0-66-1, Mathews 6-0-43-0, Mendis 7-0-48-2, Herath 10-0-48-2, Dilshan 7-0-42-0.
Sri Lanka:
K Perera c de Villiers b Parnell 37
T Dilshan run out 30
K Sangakkara c de Kock b McLaren 36
M Jayawardene c Steyn b Tahir 2
L Thirimanne b Duminy 22
A Mathews c Morkel b McLaren 58
A Priyanjan c de Kock b McLaren 30
S Senanayake c Kallis b Morkel 13
R Herath c de Kock b Morkel 1
A Mendis not out 0
L Malinga c and b Duminy 0
Extras: (B-2, LB-4, NB-2, W-20) 28
Total: (all out, 44.3 overs) 257
Fall of wickets: 1-57, 2-107, 3-113, 4-113, 5-151, 6-234, 7-249, 8-257, 9-257.
Bowling: Steyn 7-0-55-0, Morkel 7-0-49-2, Parnell 4-0-38-1, McLaren 8-0-37-3, Tahir 10-0-29-1, Duminy 8.3-0-43-2.
Image: Quinton de Kock
Photograph: Dinuka Liyanawatte/Reuters