South African pace bowler Dale Steyn has revealed that he would be continuing to use his 'secret weapon' of variation in his delivery stride and bowling action in the upcoming series against Australia.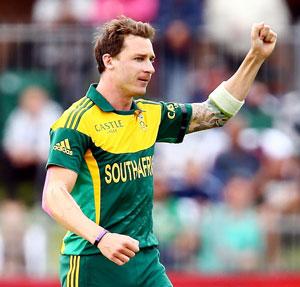 During the recent Test series against India, Steyn has increasingly used subtle variations of width in his delivery at the crease to devastating effect and took the vital wicket of Cheteshwar Pujara on the final day of the second Test in Durban by using this tactic.
According to Sport24, Steyn revealed that after the Test, he and his team's bowling coach Allan Donald had discussed better use of variation in his delivery stride and bowling action, with Donald saying that he had suggested the tactic due to Steyn's tendency to pitch the ball up just outside of off-stump.
Donald further said that Steyn could use the tactic if there is not much in the pitch for the bowlers, adding that it is important to get the angle of release just right.
The report mentioned that the ball is designed to beat the batsman by angling it in to the middle stump with one inch of swing, with the cracks on the Kingsmead pitch also playing a role in the delivery.
Steyn's tally of 51 wickets from Tests in 2013 was the third highest of any bowler, behind Stuart Broad (62 wickets) and James Anderson (51 wickets), both of whom played five more Test than the South African and also joined an exclusive club of bowlers to have reached 350 wickets in Test cricket, the report added.