Australia captain Michael Clarke scored a brilliant unbeaten double century to give the hosts a remarkable 37-run first innings lead on the fourth day of the first Test against South Africa on Monday.
Supported first by a maiden century from opener Ed Cowan in a record stand of 259, and then by Mike Hussey's 86 not out, Clarke's 218 helped lift Australia from 40 for three when he took to the crease on Sunday to 487 for four when stumps were drawn.
It was Clarke's sixth Test century, and his third double hundred, in the 15 Tests since he was named captain last year in the wake of the Ashes humiliation and Australia's quarter-final exit at the World Cup.
Although by no means a chanceless knock, the 31-year-old played with patience when South Africa's vaunted pacemen got anything out of the Gabba track before punishing anything loose with some fine shot-making.
When he carried his bat back to the pavilion at the end of the day to the raucous cheers of a sparse crowd at the famous Brisbane ground, Clarke had faced 350 balls over 504 minutes and scored 21 fours.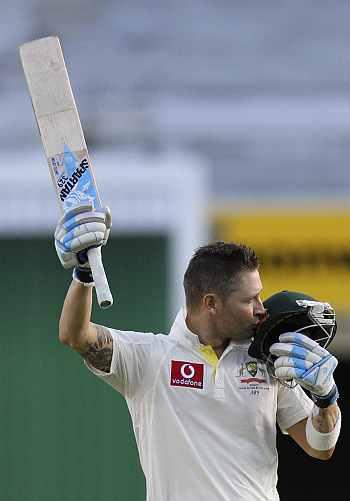 "I'm very happy with that," Clarke, who accumulated his 1,000 Test run of the year during the innings, said in an interview on the boundary.
"I didn't feel great at the start and I think Ed Cowan batted beautifully.
"We're in a great position with a 30-odd lead. I'd like another 70 odd runs in the morning and then I want to have a crack with the ball. We'll see what happens."
Cowan departed for 136 in heartbreaking fashion just before tea, run out at the non-striker's end when Dale Steyn got a finger to a Clarke drive that hit the stumps and the opener was caught out of his crease backing up.
RECORD PARTNERSHIP
His partnership with Clarke was an Australian record for the fourth wicket at the Gabba, beating the 245 Clarke and Mike Hussey made against Sri Lanka in 2007.
Cowan's wicket was the only wicket to fall on the day and Hussey started pouring on the runs as if determined to get the record back for his own partnership with his captain.
The 37-year-old bucked his poor recent form against South Africa by reaching his half century off just 68 balls with a drive through long-off and was closing on a century of his own when play ended.
It was Hussey's cut four off Morne Morkel with which Australia overhauled South Africa's first innings tally of 450 and put themselves in with an unlikely chance of even winning a Test which lost an entire day to rain on Saturday.
Clarke's negotiation of the "nervous nineties" for his century had been fraught and he was nearly run out going for a second run that would have brought him to the hundred mark.
There were no such jitters on his approach to the two hundred mark, which he passed by slapping the ball through mid-on for two runs before giving the badge on his helmet another kiss.
Cowan's century was a retort to those critics who have consistently questioned his place in the team since he made his debut in last year's Melbourne Test against India.
The 30-year-old lefthander reached the mark two overs after lunch by pulling a short Vernon Philander delivery for four to the square leg boundary, beginning his joyous celebrations before the ball hit the rope.
South Africa's number one Test ranking is on the line in the series, which continues with matches in Adelaide and Perth after Brisbane.
Photograph: Aman Sharma/Reuters