Chennai Super Kings captain Mahendra Singh Dhoni and Sunrisers Hyderabad skipper Shikhar Dhawan were fined after their respective teams maintained a slow over rate during the Champions League Twenty20 match, in Ranchi on Thursday.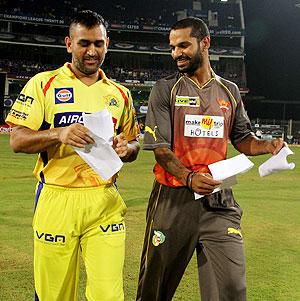 At the end of the match, Sunrisers and CSK were assessed to be one over behind the required rate after allowances were taken into consideration.
Since it was their first offence of the season under the CLT20's Code of Conduct relating to minimum over-rate offences, both Dhawan and Dhoni were fined $1,500 whilst each team member was fined $750.
Chennai Super Kings eked out a narrow 12-run win over Sunrisers Hyderabad.
Photograph: BCCI