Australian captain Michael Clarke has reportedly become the country's highest paid sports star with almost six million dollars, thanks to a half-billion dollar deal television deal finalised between Cricket Australia (CA) Channels Nine and Ten.
Nine will keep international cricket after shelling out 400 million dollars over five years while Ten will pay 100 million dollars for the Big Bash League (BBL) across the same period, creating a war chest for CA to take on the Australian Football League (AFL) and National Rugby League (NRL), News.com.au reported.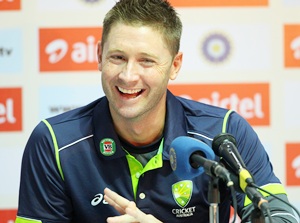 According to the report, CA has also received 500 million dollars in media rights from other sources including India, England, Champions League Twenty20 and International Cricket Council (ICC) television dividends.
Under the deal, Clarke will earn about 2.5 million dollars from CA, with personal sponsorships, endorsements and the Indian Premier League (IPL) more than doubling his income to about six billion dollars.
According to the report, a number of Australian cricketers now earn more than one million dollars a year with the minimum contract for the top 20 players being 235,000 dollars plus six figure tour fees.
The report further said that Australian cricket is now primed to redouble its pursuit of the best teenage athletes in the country, adding that a revamped eight-team BBL will be a central plank in highlighting career paths for young players which could land them lucrative IPL contracts even before they play for Australia.
Image: Michael Clarke
Photograph: BCCI