Even at 78, Polly Umrigar, the first Indian batsman to score a Test double century, talks about cricket in the country with infectious spirit.
Stories, anecdotes spill out merrily, with the eyes reflecting his joy through thick-rimmed glasses. The six-foot frame is hunched, but the voice is still authoritative as he points out the foibles of the current Indian team.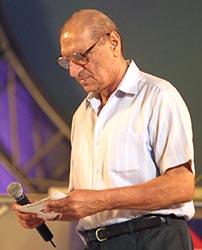 Umrigar played in an era woven around romantic tales of cricketing bliss [1948-1962], but the grandfather of Indian cricket doesn't judge the current lot with his. Without once turning back in time, he praises the present cricketers for what they have achieved.
He is still actively involved in the game, looking after the pitches at the Brabourne stadium, Wankhede stadium and a new sports complex coming up in Mumbai.
With the battle between India and Australia presiding a delectable discussion, all he remembers of the "always strong" opposition is the series against Australia in 1956-57, when the visiting team was led by Ray Lindwall. It was the only series at home when he did not score a century. "Seventy-eight was my highest," he said, as he discussed India's chances against Australia in the four-Test series with Cricket Correspondent Deepti Patwardhan.
What result do you predict for this India-Australia series?
I think both sides are evenly balanced. India hasn't done very well in the One-Day Internationals prior to the series, but Test match cricket is different. We have a very good side. With great results against Australia [in Australia, 2003-04] and Pakistan [2004] this team has put Indian cricket on the highest pedestal. The Aussies have always been a tough side to beat, and they may have a slight edge over India in fielding.
India's bowling looks good but erratic. The seamers have come along well. The problem is that only one or two bowlers click at a time; you need the entire bowling unit to fire. If one of them doesn't do well you can cover for that; but if two out your four bowlers are struggling, the rest will feel the pressure.
How much will Sachin Tendulkar's absence affect the team?
Tendulkar has been India's best batsman for a long time, but I think now there are people who can carry his burden. Nowadays, there is too much cricket being played; he needs some rest. His injury looks God-sent; at least, it will make sure he keeps off cricket for some time.
Has Rahul Dravid graduated as India's main batsman?
Rahul Dravid has done fantastically. He is playing a better class of cricket than Tendulkar. He is a very nice boy also. Whenever he comes here or I am in Bangalore he comes and greets me. He is very respectful of ex-cricketers, something that's lacking in many of the current players, and always wants to learn.
But it's really foolish to expect him to keep wickets as well in the One-Day Internationals. After standing behind the wickets for 50 overs we want him to pull India out of trouble even with the bat. I think he needs to be eased off the wicket-keeping duty; it may affect his batting concentration.
But the Indian team's theory is that it helps them cushion the batting order...
Then play all eleven batsmen. Why is the Indian team so insecure about their batting?
I think the lack of a specialist wicketkeeper and playing a batsman at number seven has led to India's downfall in one-day cricket.
It was something new to start with, but you cannot continue with that strategy forever. India needs to get in more youngsters and start preparing for 2007 [World Cup in the West Indies] from now. Ganguly needs to be more flexible with his options. He is a very obstinate captain. A captain should never be that.
Was Parthiv Patel's indifferent showing in the Pakistan series responsible for India's persistence with Dravid as 'keeper?
Patel needs to improve, but there are other people also. Dinesh Karthik did well in whatever chances he got, but I'm told he's more of a batsman and needs to work on his wicket-keeping. And even [Mahendra Singh] Dhoni is being talked about as an exciting prospect.
You need to bring in the youngsters also to keep pushing the players in the team currently. Some of the cricketers have started taking their place in the side for granted.
I have also played Test cricket and know the affection people shower on you, but I don't agree to the demi-god status awarded to cricketers here. The problem is when players start taking this seriously. We are only sportsmen, and there are players like Tendulkar, who are indispensable but not bigger than the game.
Someone like Virender Sehwag can get away playing all the poor shots because he's taking that status for granted. Also he knows there aren't people to push him out of that. 
Sehwag has received a lot of flak for his performances recently. But hasn't he always been an impulsive player?
He has; and he has done brilliantly for India. But you cannot keep him in the side on his past records. Players like Sehwag look very good when in touch, but you can use them only when they are in form.
Sehwag and a few others have been backed by their captain. There is nothing wrong with that, but Ganguly needs to show same support for some of the other players. What wrong have people like [Hemang] Badani and [Sanjay Bangar] done? They have made the best of their opportunity, Bangar is a good all-rounder as well, but they are out of the team because the captain hasn't shown enough confidence in them.
Which of Indian players, of the younger lot, do you see making a big impact?
Yuvraj Singh is India's player for the future; mark my words! He is a little more flamboyant than I would like. I think some of the senior players, someone like Dravid or Tendulkar, need to talk to him and help him balance things out in the mind.
Also, he needs to bat higher in the one-dayers. Dravid and Yuvraj should be promoted because you need players who are fast between the wickets and pick the gaps after the first 15 overs with ease, to keep the momentum that Sehwag or Tendulkar provides you. Sourav Ganguly can come in at number six because he is an excellent player of spin and can accelerate coming lower down the order.
Ganguly's form has been cause for concern. Do you think he'll be able to rise to the occasion against Australia?
The captain needs to lead from the front and Ganguly has found the going tough. But he is a good batsman and needs some technical guidance to sort out the problems.
I want to know what the coach is doing now. The captain is getting out playing some ada-teda [cross-batted] shots for a long time now.
I really don't think India needs a foreign coach. A physiotherapist and trainer, yes. We all can see the difference in fitness levels in the team and that is one of the reasons why the team has done so well. But what can a coach teach a 27-year-old cricketer? All he can do is guide him through the rough patches and correct the faults in technique that creep in. You don't need a foreigner for that.
You are in charge of the Wankhede stadium wicket. What can we expect there, especially since Australia has a very impressive record against India at the venue?
The Wankhede wicket has always been a very competitive track. Last time [in 2001] we didn't have enough time and the Indians complained that we had left more grass than wanted on the track that helped the Australians. This time also we are not going to try and give India any unfair advantage. Finally, it is up to the players to excel in any conditions provided to them.
Photograph: Jewella C Miranda