Senior opener Virender Sehwag will play in Delhi Daredevils' opening Champions League Twenty20 encounter against Indian Premier League champions Kolkata Knight Riders on Saturday after clearing a fitness test in Johannesburg.
Sehwag suffered a ligament strain on his left ankle during the recently-concluded World T20 Super Eights game against South Africa in Colombo.
- CLT20: Chance for Indians to redeem themselves
"Virender Sehwag today appeared for a fitness test which was conducted by Kirk Russell. He cleared the test and was declared fit to play in the tournament from the start," a Delhi Daredevils official said on Thursday.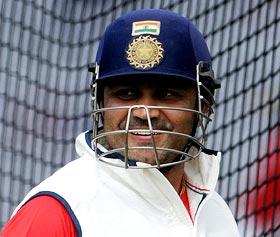 The dashing India opener also played a warm-up game against Sydney Sixers on Thursday.
- Champions League T20 schedule
However, the practice match did not go along expected lines for the out-of-form batsman, as he was bowled for a duck by pacer Josh Hazlewood, as the Daredevils scored only 107 against the Big Bash champions.
Daredevils captain Mahela Jayawardene and star opener David Warner did not play the match. While Warner was rested, Jayawardene had an appointment with the dentist and was unavailable.
With a paltry total on the board, Delhi Daredevils lost the game by five wickets.
Photograph: Gareth Copley/Getty Images