Reader
Rahul Palem
sent us this picture.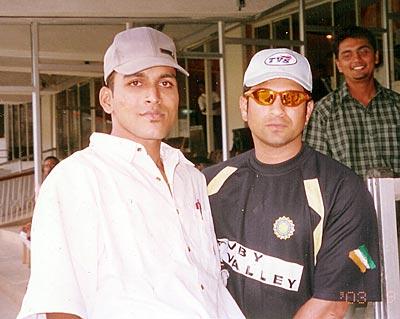 'This photograph with Sachin Tendulkar was taken in September 2003 during the Challenger series (India Sr, India 'A' and India 'B') in Bangalore. Guys, if you assume that this is a fake pic, so be it, but the fact of the matter is that Rediff is good enough to distinguish between a fake and genuine pic,' writes Rahul.
'For my last pic with Dada and Dravid, I've got quite a few responses about the rapport I've had with players which seems fake to you coz Dravid and Dada are turning the other side while the pic was taken. So, I am sending a pic with Sachin where there are hardly any people interfering and hopefully I will get feedback about faking the pic.'
If you encounter your favourite cricket/sports personalities, please send your photograph to sportsdesk@rediff.co.in. We will feature the best images right here on Rediff Cricket or Rediff Sports.