Captain Michael Clarke is fed up with Australia's slide down cricket's world rankings and has demanded his team begin to turn things around during matches in the United Arab Emirates.
"(It's up to us) to realise we sit fourth in the one-day rankings, third in the Test rankings and eighth or ninth in the Twenty20 rankings," Clarke told reporters on Tuesday before limited-over games against Afghanistan and Pakistan.
"Every player knows that it's unacceptable for an Australian team to sit there, but that's easy to say; it's about what we do."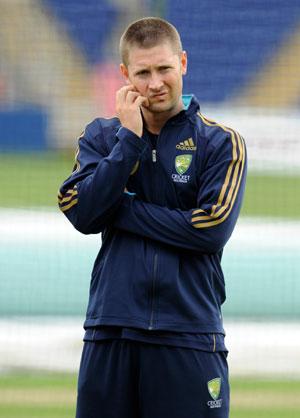 It has been a lean two years for Australian cricket. Clarke took over the captaincy as a number of gifted players including former skipper Ricky Ponting, Glenn McGrath and Adam Gilchrist came to the end of their careers.
Under his leadership, Australia have remained more than competitive but their ability to dominate teams is no more.
Australia were soundly beaten by England in their most recent one-day series, succumbing 4-0 with a washed-out third match denying the hosts a clean sweep.
They were eliminated in the quarter-finals of last year's World Cup, a tournament they had won three times in succession.
Clarke said much had been said about the performances of his team, but the time for talking was now over and it was up to individuals to take responsibility for results.
"It's actually not about what we say now, it's about what we do as a team," Clarke said in Sydney before flying to Dubai.
"We've all sat in meetings and heard the captain or the coach have their say, but it's now up to us as individual players and as a team to do something about it."
Australia face Afghanistan in a one-day international in Sharjah on Saturday before three one-dayers and three Twenty20 internationals against Pakistan in Abu Dhabi and Dubai.
They then head to Sri Lanka for next month's World Twenty20 - the one major title that has eluded them.
Clarke acknowledged conditions in the UAE would test Australia but overcoming such obstacles was all part of their quest to get back to the top, something that would take time.
"I feel we've got a lot of work to do to get back to being the number one side in the world," he said.