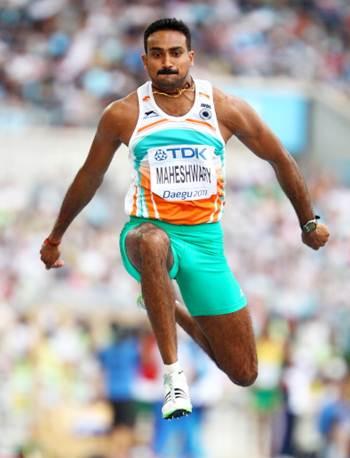 A Kerala-based organisation moved the Delhi high court on Friday against the Centre's last-minute decision to deny triple jumper Renjith Maheshwary the prestigious Arjuna award in 2013.
Navalokam Samskarika Kendram of Kottayam, in its plea, alleged that the Ministry of Sports and Youth Affairs not only selected the athlete but also sent prize-money of Rs five lakh through cheque, besides the air ticket for the awards function.
Conferment of the award was cancelled at the last minute, causing grave embarrassment to the athlete, it said.
The ministry, in deciding not to confer the award, said the triple jumper was found to have used a 'scheduled' substance (ephedrine) back in 2008.
A bench of Justice Manmohan, which asked the organisation to file a short synopsis and the list of dates and events, fixed the plea for hearing on May 26.
Besides the ministry, the plea also made the Sports Authority of India, Athletics Federation of India and Director General of the National Anti-Doping Agency as parties.
It has sought quashing of alleged 2008 dope test report of the athlete on grounds that the National Anti-Doping Agency has not been accredited by World Anti-Doping Agency and, moreover, the "custody of the sample" did not satisfy legal requirements.
Besides various other reliefs, the plea has sought compensation for non-conferment of the award.
"The athlete had never been punished and not even tested positive by a WADA-accredited agency," the plea said.
Maheshwary has several awards in various international events. His name was in the awards list released on August 14, 2013. On August 29, he came to Delhi from Chennai and stayed at Hotel Ashoka, along with other award winners, and participated in a rehearsal at Rashtrapati Bhavan for the function, the plea said.
The next morning he was told to stay away from the ceremony as the award had been withdrawn, it added.
Earlier, the Supreme Court refused to interfere with the government's decision to withdraw the award for Maheshwary.
Maheshwary won gold at the 2007 Asian Championships. He finished fourth at the 2006 Asian Games. He also competed in World Championships in 2007 and '13, and the 2008 Beijing and 2012 London Olympics.
Image: India's Renjith Maheshwary competes in the men's triple jump qualification during Day 7 of 13th IAAF World Athletics Championships at the Daegu stadium on September 2, 2011 in Daegu, South Korea.
Photograph: Mark Dadswell/Getty Images