Upcoming fast bowler Pat Cummins will not play in the Indian Premier League as cricket Australia wants to preserve the 18-year-old from injuries as a part of their long-term plan.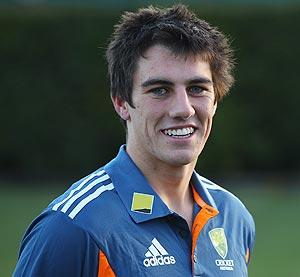 Cummins is recovering from a persistent stress-related heel injury in the hope of touring the West Indies in March and April.
"The West Indies is a massive tour for us and obviously I want to make that my No 1 goal," Cummins was quoted as saying by The Telegraph.
According to new team performance manager Pat Howard, a three-year plan will nurse him through his formative years.
"He (Howard) said because I was pretty young I was more at risk of getting injuries. It's just about managing workloads," Cummins was quoted as saying.
"Obviously, I can't play every game. It's about what games I can play. I'll see how I go. They think about 70 percent of games this year, my body will be able to cope with. Then 85 percent next year and 95 percent the following year.
"A lot of that comes down to me getting older and doing a lot of gym work."
"We can't expect Pat to play all the time," Howard said. "It's about getting Pat from the age he is now to the age of James Pattinson. These guys are very, very young. We expect some injuries over time, but we're going to try to minimize them to the best of our ability by managing the workload. That's all your training and all you're playing," he added.
Cummins might make a comeback to international cricket during the later half of the tri-series involving Sri Lanka and India.
Space-age science has been part of an almost daily training regime over the last month.
Initially it included using the Swans' $100,000 AlterG running machine, which reduced the impact of Cummins' body weight to just 70 percent.
"It's a treadmill with big air bag. You wear tights with a big air bubble which lifts you up a bit," Cummins explained.      "It's frustrating not playing, but not as much as I thought it would be. I've always watched the cricket. Growing up I watched the Test matches every year. I don't get of sick of it."