Former India cricketers Bishan Singh Bedi and Kirti Azad slammed the proxy voting system in the Delhi and District Cricket Association polls, saying it proved a major factor in their defeat.

They along with Surinder Khanna and Madan Lal were a part of a protest against the proxy system at the Feroz Shah Kotla stadium in New Delhi on Monday after Bedi's faction was crushed by Sneh Prakash Bansal and his panel in the elections.

"The Dharna [protest] is not a publicity stunt, it's pretty real. A lot of nonsense is going on in DDCA, which needs to be cleaned up. A lot of corruption and malpractice is taking place in DDCA and I guess the best thing that has happened in Delhi is the anti-corruption wave and I don't see how the DDCA can escape it," Bedi told Rediff.com.

"You see we haven't collected any proxies. That bag is with them and that's exactly what we want to eradicate," the spin legend added.

According to the DDCA's proxy system, anyone can fill the proxy form and cast a vote of behalf of a member who is not able to make it to the annual general meeting.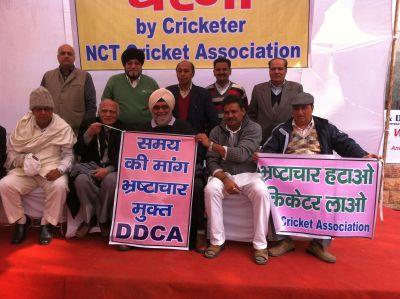 Azad too echoed the same sentiment. He blasted the proxy system, saying the rival panel used it to their advantage.

"You see this is what we are protesting against. There is this form of Mr Subhash Chander Popli, who has signed in here below and must have handed to his friends out here. Now if I want I can write my name and add Bishan Singh Bedi's name and cast my proxy vote. This is what we want to abolish.

"You see, the proxy form is issued by the DDCA, which is sent by post, and ideally one gets 21 days, but this time only 14 days were given to fill and return the form. If you ask me, you are misusing the proxy system and you are cheating in the game of cricket," he said.
- Check out the DDCA election proxy form

Azad said even he had the option of getting proxies to manipulate votes but is against the said system and wants the DDCA to get rid of the same.

"Even I too was getting 1272 such proxies and I could managed to get another 500-700 proxies and could have sneaked in, but that's not how I would want to win. This is a moral victory for us. The current president (Arun Jaitley) and vice-president (N K Batra) decided not to contest elections; it says a lot about our victory," he explained.

"The proxy forms are usually blank and you will find here on the notice board, for example Sneh Bansal 1200 proxies, CK Khanna 982 proxies etc. and they basically wait till the last moment and then they sit down, as I said, for united alliance -- united in corruption and alliances for position. So through these proxies they come into various posts such as president, vice-president etc. This is an example right in front of you how proxies are being misused," he added.

Azad further informed that they are planning to move to court against the proxy system.
"We are moving court to get DDCA dissolved as a company. We have raised the voice and our fight against corruption will continue," he said.

Bedi was also livid about the manner in which the annual general meeting was conducted.

"The outgoing president (Jaitley) while answering a query said that the next match will be held at the Kotla. He perhaps didn't know that this is Delhi's last match of the season (vs Karnataka)," Bedi added.

Chetan Chauhan, who was elected vice-president, said he would want the likes of Kirti Azad and Bishan Singh Bedi to contribute to the DDCA.

"When we will have the first executive committee meeting, at least I would definitely want Bedi, Madan Lal, Suriender Khanna and Azad in the DDCA and how their services can be utilized," Chauhan said.
Image: Bishan Singh Bedi, Kirti Azad and Surinder Khanna during a two-day protest at DDCA
Photograph: Manu Shankar