Board of Control for Cricket in India secretary Sanjay Patel was on Monday removed from the managing committee of the Baroda Cricket Association, who claimed his appointment was 'illegal'.

Besides Patel, who is a honorary secretary at BCA, three other members of the managing committee were also shown the door, secretary Anshuman Gaekwad said.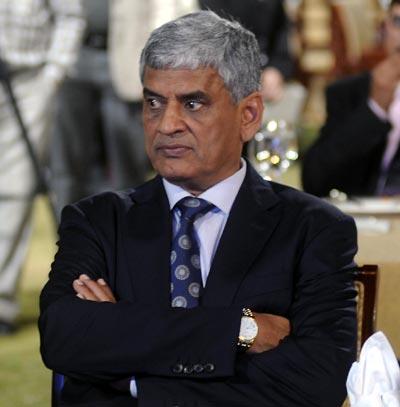 "A notice in regard to remove Patel and three others from the managing committee were served to them tonight," Gaekwad said.

The three other members receiving notices included Hemant Chokshi, Dr Anandrao Patel and advocate Kaushik Bhatt.

In his notice, Gaekwad said, "You are removed from the managing committee because you were illegally co-opted in the managing committee, which had violated the constitution and rules of BCA."

"The decision to remove all the four members was taken in the meeting of managing committee of BCA held here yesterday."

The managing committee has the powers to remove illegally appointed members.

"So we issued notice to all the four members informing them about their removal from the managing committee," Gaekwad said, adding that it was done after seeking a legal opinion on the issue.

In fact, the decision to remove them was considered at its last managing committee meeting a few days ago, but notices were not sent after BCA president Samarjeetsinh Gaekwad vetoed it.

"So, we had sought legal opinion as BCA president, Samarjitsinh Gaekwad used veto power to prevent the issue from being discussed," Gaekwad said.

Patel said it is an act of vengeance and that he will take appropriate action once he receives the notice.

"I have not received any notice from BCA and I have moved to the local court to obtain stay order. The court served notice to BCA office bearers to reply before it takes up the matter for hearing, " Patel said.
Image: Sanjay Patel
Photograph: BCCI