As Indian cricketer Yuvraj Singh battles cancer, here is a story of hope he can take inspiration from.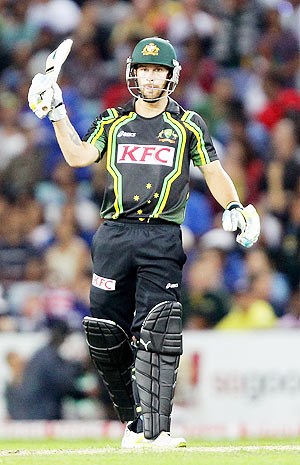 The 30-year-old Yuvraj, who is currently in the United States undergoing chemotherapy for a cancerous tumour between the two lungs, found out about his disease last year.
-Armstrong offers Yuvraj help in his battle against cancer
Australian wicketkeeper Matthew Wade was all of 16 when he discovered that he had testicular cancer, that too by chance after he got hit on the groin during a football game.
"I went in and got it checked and the doctor basically said if I hadn't been hit in the testicle, may be I would never have known the tumour was there, so I was pretty lucky I got hit in the nuts and got it checked," Wade told the Sydney Morning Herald.
-Recovering Yuvraj posts bald pic
"It was just a surreal sort of thing. It didn't hit home until I sat there and they told me basically that I was going to go through chemotherapy and lose my hair and all that sort of stuff. As a young bloke at 16, I think that's when it hit home that this was pretty serious.
"Before that I didn't really know, I just thought I'd have an operation and it would be taken care of. Then, sitting down and talking about it, I realised how serious it was, and I was pretty lucky to get through it."
The 24-year-old, who has had a decent run since making his debut against India in the ongoing ODI tri-series, recalled the time he battled the disease and how he chose cricket over Australian Rules Football.
"For a couple of years I really just sat back and enjoyed the little things. I wasn't as driven for a period," Wade said.
He began a plumbing apprenticeship, and kept playing both sports -- VFL for Tasmania and first-grade cricket in Hobart -- without thinking he would reach the top level in either.
"When I got diagnosed with testicular cancer, that was at a pretty crucial time for my footy. I kept playing but it wasn't probably as intense as what it could have been. I floated through that period and started the apprenticeship because I thought professional sport was out of the question," Wade said.
"I still tried to train between cycles (of chemotherapy), but it was too hard to do it at the intensity I wanted, so I let it take a back seat.
"I remember batting out here (on Bellerive Oval) two or three months later in an under-19s game. I wanted to keep playing, I just never thought I would play at the highest level. I just thought I'd play first-grade cricket and footy, do my apprenticeship, and that would be me," he added.