James Pattinson has been 'fragile' in his so far fledgling Test career.
The 22-year-old, who made an impressive debut against New Zealand in October 2011 -- taking 14 wickets in two Tests -- has featured in just eight Tests so far, while sitting out for an equal number owing to recurring injuries.
When India toured Down Under in 2011-12, Pattinson had them in all sorts of trouble early on, picking up 11 wickets, before injury ruled him out of the last two matches.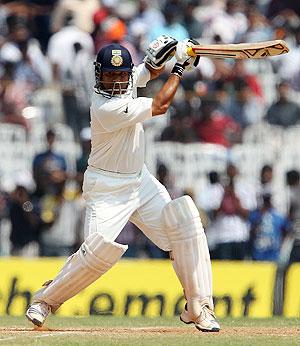 Michael Clarke, aware of his lead bowler's fragility, preferred to use him in short spells on Day Two of the opening Test against India at the MA Chidambaram stadium on Saturday.
It was a decision that evoked criticism. However, it was also one that ensured Australia wickets. Pattinson, bowling with great pace, picked up all three Indian wickets to fall on the day.
If the selectors believed dropping Gautam Gambhir would be an answer to Team India's opening woes, then they got it wrong.
The home team reached 182 for three on the day and it would have been in a much better position, having negotiated all the other Australian bowlers fairly comfortably, had it not been for Pattinson.
The quick bowled only two three over spells but delivered both the times.
At stumps (52 overs), Sachin Tendulkar was unbeaten on 71 and giving him company was Virat Kohli on 50, the two having put on 77 runs for the fourth wicket.
Earlier, R Ashwin finished with career-best figures of seven for 103 as Australia was eventually bowled out for 380 in their first essay. Michael Clarke, the captain, top scored with 130.
Post-lunch session (84 runs, 21 overs, two wickets)
The person the Indian selectors chose to partner Virender Sehwag up front was someone who had managed only 120-odd runs in the domestic season. The only thing that could have justified Murali Vijay's inclusion was the fact that he was a local, having honed his skills at the MA Chidambaram stadium in Chennai.
However, as things turned out, Vijay (10) survived for just 15 balls before dragging a James Pattinson delivery back onto his stumps. In fact it was the bowler's speed that did the batsman in.
India had not yet recovered from the early shock when Pattinson dealt with a second blow. Sehwag defended an incoming delivery only for it to bounce and clip the bails. Sehwag, batting with corrective glasses, failed to see the ball after having played it.
Sehwag made only two and his early departure ensured his Test average dropped to below 50.
In came Sachin Tendulkar to a thunderous applause and he eased the pressure to an extent with three sweetly-timed boundaries in the same Pattinson over.
And in Cheteshwar Pujara he found an able ally, the two putting on 72 runs for the third wicket as India reached 84 for two in 21 overs at tea break on the second day.
Tendulkar was batting on 38 and Pujara on 33.
Morning session (64 runs, 38 overs, three wickets)
If Day One had witnessed Australian aggression, Day Two was all about their fortitude on the second day of the first Test in Chennai on Saturday.
Frustrated as they were, the home team failed to get a breakthrough in the first hour of play, with the visiting batsmen displaying amazing resistance.
Michael Clarke, who had on the opening day gone past Sir Don Bradman (6996) and becom the 10th Australian batsman to get 7,000 Test runs, moved up to ninth in the list getting past Greg Chappell (7110).
Peter Siddle, on the other hand, was resolute in his defence and faced as many as 63 balls before hitting an Ashwin deliver past the point fielder, a shot that earned him his first boundary as well as helped him move into the double figures.
A single by Clarke, off Harbhajan, in what was the 20th over of the morning, helped raised the 50-run partnership for the eighth wicket.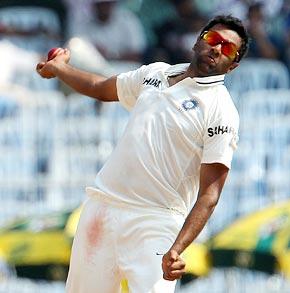 Shortly after, the Australian captain, dropped on 39 on Day One, got his second reprieve of the innings (on 128) when Cheteshwar Pujara missed a sitter silly point, Ravindra Jadeja being the unfortunate bowler.
Jadeja though got Clarke out in his next over, having him caught by Kumar at long-off. A momentary lapse of concentration had cost Clarke his wicket, 246-ball 130 was inclusive of a dozen boundaries and a six and he put 54 runs (in 29 overs) with Siddle for the eighth wicket.
India had finally managed a breakthrough, in the 25th over of the day. The second didn't take that long though, as Harbhajan ended Siddle's resistance, having him caught by Virender Sehwag at first slip.
Siddle faced 94 balls for his 19. His wicket ensured an unimpressive Harbhajan finally had a wicket to his name in his 100th Test match.
James Pattinson (15 not out) and Nathan Lyon (3) resisted for another 14 overs before a spectacular catch by Virat Kohli at backward short leg ended that latter's innings, giving Ashwin his seventh wicket of the innings.
Australia were finally bowled out for 380 in their first innings.
The visitors added 64 runs to their overnight total, but for the same, made the home team bowl a whopping 38 overs in the morning session.
Photographs: BCCI