The MA Chidambaram stadium has traditionally been a happy hunting ground for Team India but that not the case for Australia, who have struggled at this ground, writes Bikash Mohapatra.
A case of sharp contrasts will be on display when India take on Australia in the opening Test in Chennai on Friday.
The MA Chidambaram stadium has traditionally been a happy hunting ground for Team India, the home team having won 12 (and drawn 11) of the 30 Tests played at the venue thus far.
Of the six Tests Team India has conceded at the venue, four came in its formative years. The home team's last defeat at the venue happened 14 years back, when arch rivals Pakistan edged home by a thinnest of margins (12 runs).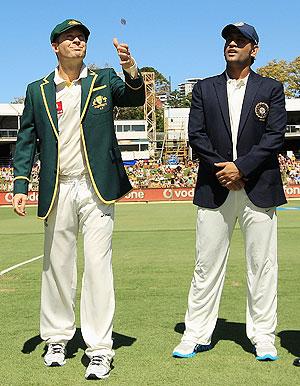 In fact in the last 35 years, Team India has lost just two Tests at the venue, the other reverse coming against England January 1985.
In the last Test match played at the venue, against England -- the only team to have beaten Team India on multiple occasions at Chepauk -- in December 2008, the hosts faced defeat. However, significant second innings contributions from all the major batsmen -- Virender Sehwag, Gautam Gambhir, Yuvraj Singh and above all Sachin Tendulkar – ensured an improbable, albeit memorable, win.
Australia, on the other hand, has struggled at the venue, winning only one of the six Tests played. That lone win came more than 40 years back, in December 1969, when Bill Lawry's team bested Nawab Pataudi's men en route to a series win.
Coincidentally it happened to be Australia's first match at Chepauk. Since then it has been an endless wait for the men from Down Under. In fact, the defeat they suffered in the third and final Test of the 2001 series will always evoke painful memories for the visitors.
Having lost the second Test on that tour, at Eden Gardens, from a seemingly comfortable position (Remember VVS Laxman's 281?), the Australians had the Indians on the mat in the final innings before the hosts scraped through by two wickets, thereby pocketing the series. The defeat also meant the then Australian captain, Steve Waugh, had failed to conquer what he had described as the 'final frontier.'
However, the most memorable match between the teams has to be the tied Test – only the second such match in history – of 1986, a match that witnessed a bold declaration by captain Allan Border and an almost Indian win, clipped at the last hurdle by the brilliance of a certain Greg Matthews – who took a 10-wicket match-haul.
If Australia is to start this series on a winning note, inflict on Team India a first defeat in more than a decade and end their 44-year winless run, they need a performance of that magnitude.
Photograph: Getty Images