A day after breaking into the Australian Test side, batsman Ed Cowan had his preparations for the Boxing Day Test against India disturbed when a man broke into his parents' Sydney home and refused to leave when police arrived at the scene.
The man was spotted by a neighbour crawling through a window of the Cowan family home, on Thursday and exited to find police waiting to apprehend him. Rather than give himself up, he charged back inside and barricaded himself in a room for several hours.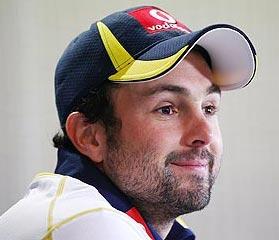 "He made threats against the police and at the time it was thought he may be armed. After several hours police entered the room where the man was arrested," police superintendant Jason Joyce said.
Police stormed the house after the man threatened to harm himself and used capsicum spray to control him. Disoriented, he was later taken to hospital, reports said.
Cowan's father Richard came home to find his house surrounded by police and squad cars.
"Since Ed was selected I've had about 350 phone calls," he said. "I've spoken to Ed and let him know everything's OK. He's in Melbourne getting ready for the Test."