The Board of Control for Cricket in India (BCCI) is backing the Indian cricket team to bounce back in the forthcoming Test series against Australia and make up for their poor showing against England.
India were beaten 1-2 by England in one of their most disappointing performances at home and they came in for heavy criticism following that failure.
BCCI's general manager for game development Ratnakar Shetty said they are fully behind Mahendra Singh Dhoni and his boys and expect to emerge triumphant in the four-match Test series starting in Chennai on February 22.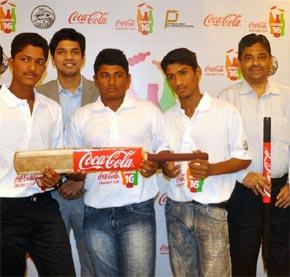 "Our team is currently practicing at the NationalCricketAcademy where they are undergoing strenuous training and practice. I think everybody is geared up to do well in the series and the team has the potential to do well and we have players who can turnaround things for Indian cricket. I am sure we have better days for Indian cricket in the coming days," Shetty said in Mumbai on Monday at the launch of the second season of the Coca Cola Cricket Cup under-16 tournament.
Shetty also came down hard on parents encouraging their children to play in age group cricket by producing fake certificates.
"This is a constant problem in age group cricket because there is so much competition and the parents want their child to do well and reach a particular level so there are always compromises made," he said.
But he added that the BCCI has come up with some strict guidelines to check the problem and has made bone tests compulsory due to which a lot of offenders have been caught recently.
"The problem of overage cricketers is a menace in our country and we need to fight this problem. The BCCI has taken some very harsh steps to counter this problem to make sure that only those who are eligible should get a chance to play in the age group cricket."
"There were children who wanted to qualify on basis of their birth certificates but we made X-ray tests compulsory along with it and the results were good. When you are playing Under-16 cricket you should have a level playing field and the young boys should opportunities on basis of their cricketing talent. If an overage boy takes part in that age group then it is a disadvantage for the other boys who are under the age of 16. Also the overage players end up as failures in their career and they also spoil the career of good players in the age group cricket," he added.
Image (left to right): Arman Jaffer, Sameer Pathak, Senior Manager (Coca-Cola), Sarfaraz Khan, Usama Parkar and Ratnakar Shetty