Australia captain Michael Clarke has urged his players to solely focus on the upcoming one-day series against England and Pakistan, and then on the Twenty20 World Cup in Sri Lanka, rather then keeping next year's Ashes series in mind.
Australia will play back-to-back Ashes series in England and Australia next year, but Clarke wants his players squarely to take every series one by one.
"It's important the boys aren't looking at the Ashes right now. We need to be really focused on the one-day side of things to stay No.1 in the world.
"It's crucial we beat England and Pakistan and then the boys have got the Twenty20 World Cup to keep the shorter form of the game going," The Daily Telegraph quoted Clarke, as saying.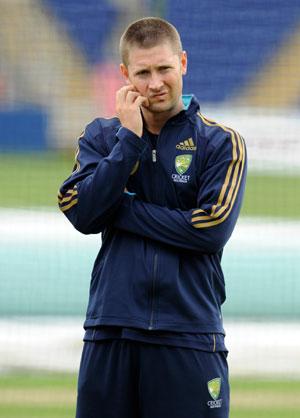 "But when we get on that plane this is the start of building our skills so come the first Test of the Australian summer we're 100 per cent ready to go.
"I certainly don't want to prioritize Test cricket right now over one-day or Twenty20 cricket," he added.
"It's important to focus on what's in front of you.
"Our one-day form hasn't been as consistent as we would like following a drawn series in the West Indies," he said.
Clarke pleased to keep personal life away from paparazzi 
Meanwhile, Clarke has expressed happiness over being able to keep his personal life private, and away from the public domain following his secret wedding to Kyly Boldy.
"I loved the fact that we did it so privately. That's one of the things I've been so pleased about over the past couple of years," The Daily Express quoted Clarke, as saying.
"My personal life has stayed private. Both Kyly and I love that," he added.
Clarke is not sure how much traveling Boldy will do with him during a hectic two years, which begins on Thursday when he leaves with the team for a one-day series in England.
Since his four-day wedding was kept under wraps at Wolgan Valley in the Blue Mountains, it has been business as usual for Clarke, as he made a return to India to complete his Indian Premier League commitments with Boldy accompanying him for a working honeymoon, and then preparing for an almost full calendar of cricket.
Clarke said his goals haven't changed despite being a married man now. 
"I might be married now, but my goals haven't changed. I want to try to become the best cricketer I can be and I want to see the team have as much success as possible," Clarke said.