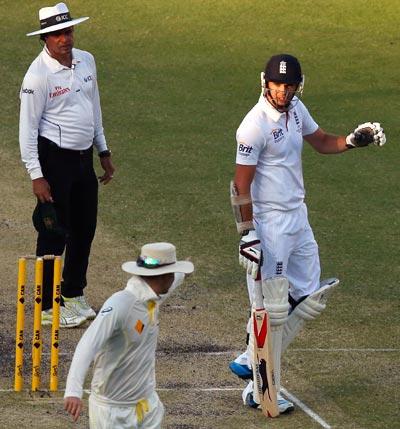 Australia captain Michael Clarke has been fined 20 per cent of his match fee for breaching the ICC code of Conduct during the first Test against England in Brisbane, which concluded on Sunday.

Clarke was found to have breached Article 2.1.4 of the ICC code of conduct which relates to "using language or a gesture that is obscene, offensive or insulting during an International Match".

The incident happened when Clarke made inappropriate gestures and directed an obscenity towards England's James Anderson, which was picked up by the stump microphone.

The charge was brought by umpire Kumar Dharmasena and third umpire Marais Erasmus.

On Monday morning, Clarke admitted the offence and accepted the sanction proposed by Jeff Crowe of the Emirates Elite Panel of ICC Match Referees. As such, there was no need for a formal hearing.

All Level 1 breaches for this offence carry a penalty of a warning/reprimand and/or the imposition of a fine up to 50 per cent of the applicable match fee.

Clarke said he still accepted the fine and believes that there is still mutual respect between the players of the two teams.

"I have the utmost respect for the England cricket team, you don't get to be the number one team in the world, which they did, if you don't play very good cricket," Clarke said after the match.

"Through my career there's always been banter on the cricket field and I cop as much as I give, that's for sure. I'm not going to go into what was said out on the field, I think it's part and parcel of the game and I cop my fair share.

"I think I've heard a lot worse said on the cricket field than any of the Australian players or the England players have said during this Test match. I certainly understand and respect that there's a line and that both teams shouldn't overstep that line, and I hope that hasn't been the case in this Test match."
Image: Michael Clarke and James Anderson exchange words.

Photograph: Chris Hyde/Getty Images